Column #516 Bromberg and the 'Toid storm Machu Picchu!
Wednesday, June 1, 2016
Column 516
Bromberg and the 'Toid storm Machu Picchu!
If you are one of the half-dozen regular readers of this column you will be aware that a few years ago three-times world champion Stacy Bromberg and I began planning a trip to Peru to explore the pre-Columbian 15th Century site of Machu Picchu, the most familiar icon of the Inca World and one of the New Seven Wonders of the World.
Well, we finally did it. And we took a dartboard!
We were joined by Terry Maness, Bromberg's long-time sponsor, and president, CEO and owner of Horizon Darts Supply and Laserdarts in Kansas City. We invited several others to join us, but all declined due to various conflicts and because they couldn't bear the thought of "spending a week with that asshole, Dartoid."
The Lost City of the Incas, Machu Picchu ("Old Mountain" in the Quechua language), is a sight to behold. Enchanting. Mesmerizing. Eerie.
Hidden more than a mile and a half above sea level, the mysterious ruins, the size of a village, are framed by the lush ferns, palms and swirling clouds of the humid subtropical rainforest. Llamas graze the site, and colorful birds flit here and there. Far below, the Urubamba ("Sacred Valley") River carves its way through the landscape. In the near distance, Huanya Picchu ("Young Mountain") reaches into and through the clouds. It is said the "intrepid and fit" can climb Huanya Picchu so, of course, we didn't.
Various scholars submit that Machu Picchu was a prison, sacred religious site, trade hub, a station for testing new crops, a woman's retreat or a city devoted to the coronation of kings. The most widely accepted theory is that it was built as a winter retreat for Inca Emperor Pachacutec. Pachacutec is best known for inventing the parachute.
From Las Vegas, Kansas City and Tampa we traveled by planes, trains and automobiles – and bus (carrying our dartboard in a pillow case).
We began (and ended) our journey in Lima, Peru's capital city. There are two dart bars here: Murphy's Irish Pub (Shell 627) and The Old Pub, also called Pub Inglés (Calle de las Pizzas, off Parque Kennedy). We got to neither because it was too damn hot.
We flew from Lima to Cusco where there is also a bar with darts: Norton Rats (Sta Catalina Angosta 116). Again we passed, this time partly due to the heat and humidity but also because the altitude was beginning to make us woozy.
From Cusco, we wandered by car for a day through the Sacred Valley, eventually arriving at a train station near Ollantaytambo where we then caught something called a Vistadome Train to Aguas Calientes, our penultimate stop in what might be called the "foothills" of the ruins. From here it was just another 45-minute or so hop by bus. We managed to do some shopping, eat, and then crashed and slept fast. (One of our chief purchases was several small bags of green coca leaf candy which, remarkably, stemmed the effects of altitude. You can also buy baggies of the leaves – they are for sale everywhere – but it is illegal to take them out of the country.) Our aim was to catch the first bus in the morning to reach the ruins before sunrise.
As extraordinary as Machu Picchu is the journey there was nearly its equal…
In the Sacred Valley, in Chinchero, we visited with a family that still preserves their traditional customs. They shared their ancestral process of spinning alpaca wool and introduced us to how they obtained from plants, the blood from bugs, and even children's urine, the many vivid colors in their textiles.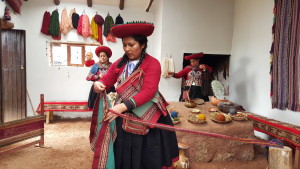 Near Urubamba at Moray, we were introduced to one of the most unusual sites I have ever seen, perhaps more impressive in its uniqueness than Machu Picchu itself. Moray is a series of big, circular terraces in the middle of nowhere, with an out-of-this-world quality about them. These formed an Incan experimental farm, a laboratory. As the terraces descend into the center of each circular formation they present a subtly different micro-climate from the previous level. This technology allowed the old Inca farmer-scientists to study the effect of altitude and temperature on plants and to experiment with different varieties to improve their crops. The result: today there are 55 different types of corn in Peru (the purple variety became one of our favorites – it can be made into a sort of pie filling and drinks) and more than 3,000 types of potatoes.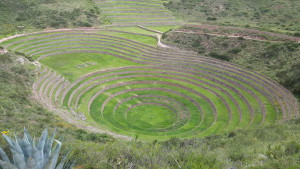 On the outskirts of Ollantaytambo, one of the few places the Spanish conquistadors lost a major battle, we explored more agricultural terraces and wandered the original cobblestone streets. The aqueducts are still running as they have since the city was built in the 13th century.
Somehow, we made it to Machu Picchu for sunrise. But there was no Machu Picchu. There were steps, exactly a billion of them, made out of unevenly cut stone, frequently connected by crazy switchbacks. Whatever one may believe to be true of Incan ingenuity, their ability to carve an entire 'city' out of a granite mountain with no modern tools, let's just be clear: while they may have been ahead of their time in many ways – the stones are set perfectly with nary room for a hair between them – they knew Jack Shit about escalators.
So we climbed and climbed, occasionally glimpsing a few "intrepid and fit" people – all young with muscles, and some, I noticed, in halter tops – who had finally, after hiking, by FOOT for days along the Inca Trail, reached, just about, the same point we were: about to pop out at the top of a ridge to behold the first expansive postcard view of the Machu Picchu ruins.
Naturally, after the obligatory oohs and aahs, we pulled out our dartboard and began to line up shots, surely the first ever captured with a dartboard at this iconic point on the planet…
Suddenly, we were approached by a really big, arm-waving, dumb dude who wasn't (at least I don't think so, but he could have been) a member of the ADO board of directors. Although he spoke no English, it was evident he was not – no way, no day, not ever – going to let us stage any photographs with the board. We politely apologized (Lo sentimos, hijo de puta!) and then snuck about to snap photos when he wasn't watching.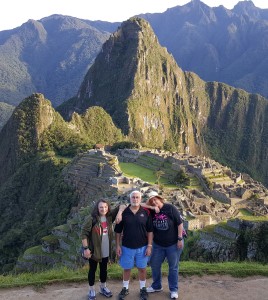 We explored the ruin for hours. Climbing. Tripping. Sweating. Chewing our candy. Wishing we had more water. We met some llamas.
We saw everything – more agricultural terraces, fountains, sacred stones, the spot where sacrifices took place, an ancient concubine residence, the Temple of the Sun, Temple of the Three Windows, Temple Beth Israel.
A few hours into our exploration, Terry discovered her purse was missing. I still can't figure why she carried it with her, but I gave up long ago trying to understand the female mind. It's not as if there was a 7-Eleven somewhere among the ruins, although there damn well should be. Terry backtracked and somehow managed to find her purse.
While Terry searched, Stacy and I hung out at the concubine house, although Stacy seemed less impressed than I. What did impress Stacy (and she had a point) was that she was able to post to Facebook while we waited. The Incas may have known nothing about escalators but apparently they did invent Wi-Fi.
It was in 1911, that American academic and archaeologist Hiram Bingham, searching to find Vilcabamba, the site of the last Inca stronghold to fall to the conquistadors (which he found), discovered Machu Picchu. The site had been abandoned just 100 years after being built, some say as a result of a smallpox epidemic (there is no evidence the Spanish ever found it). Funded by Yale University and the National Geographic Society, Bingham returned to the ruins each of the following three years, excavating and exporting to Yale many of Peru's treasures – ceramics, tools, jewelry and human bones. It was not until 2010, with the assistance of President Obama, that the artifacts were finally returned to Peru. After Bingham's days as an explorer, he served Connecticut as Lieutenant Governor and Governor and was then elected to two terms in the United States Senate. Bingham's book, Lost City of the Incas, is an essential and fascinating read for anyone contemplating a visit to Machu Picchu.
Just a few hours before sunset but still in the extreme heat of the day, Stacy, Terry and I – drenched with sweat and buzzing a bit from coca candy – emerged from the ruins. We stopped briefly for lunch at a cafe by the entrance/exit and cooled down with purple corn drinks. We had our passports stamped with a little image of the shrine. We popped off a few Facebook posts and began the next stage of our journey.
With our dartboard safe in its pillow case we headed by bus back to Aguas Calientes, by Vistadome Train back to Ollantaytambo, car back to Cusco, plane back to Lima, and then by another plane to Santiago, and yet another plane – five hours into the middle southeastern Pacific Ocean – to, perhaps, an even more isolated location: Isla de Pascua, Easter Island…
…to throw darts among the mysterious giant heads (moai) with the descendants of the Rapa Nui.
Just try and tell me Phil Taylor has done any of this!
From the Field,
Dartoid
The following two tabs change content below.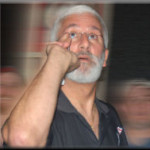 Author of the column that since 1995 has been featured by Bull's Eye News, the American Darts Organization's (ADO) Double Eagle and numerous other darts publications and websites around the globe.