Column #JB46 It's December Again!
Monday, December 7, 2015
Column JB46
It's December Again!
Many months have passed and thousands of darts have been thrown since my last article back in the middle of summer. Now the dark nights have set in, the gloves are out and we are getting ready for The World Championships again! In my four month sabbatical from airing my darting views, I have had the busiest months of my life through keeping on top of my A Level Studies and applying for university. It is strange to imagine that this time next year, all being well, I will be at university in a big new city. However, what I have discovered in these last few months is that I am ready for this challenge but whatever happens, I always come back to darts.
Unfortunately I haven't been able to watch as much darts as I would have liked in the second half of 2015 but I have been consistently taking to the dartboard myself. You may remember I mentioned playing on Webcam Darts online previously and in September this year I was offered the opportunity to join a darts league. Being able to play consistently has developed my game as although my averages haven't particularly improved, my competitive match skills have. I have just completed my last game in the league and am probably going to finish in second place after winning 8 out of 10 matches. Playing in the league has been thoroughly enjoyable and after only winning two football matches this season has given me the opportunity for some success!
As this season is nearly finished, if anyone wants to get involved next season go to https://www.facebook.com/groups/591097500994100 or if you are interested in playing Webcam Darts to get some game experience go to https://www.webcamdarts.com, I couldn't recommend it enough.
While on the topic of amateur darts, I am also interested to hear if anyone watched the recent darts series, 'One Hundred and Eighty' on Sky1. Although slightly cliche at points, I thought Davina McCall and Andrew Flintoff did a great job of presenting, with Flintoff's passion for darts exciting to see. Featuring two professional darts players on each episode, watching this programme would be another recommendation this Christmas time. Back onto the professional game now and last time I wrote for you it was the dawn of the World Matchplay. I ended that article saying I wouldn't back against Gary Anderson winning the Triple Crown but almost from the moment I uploaded that article, Michael Van Gerwen has taken the darting world by storm. The World Matchplay appeared to be the trophy he had always desired after tearfully losing to Phil Taylor in the 2014 tournament and since he beat James Wade 18-12 this time around, it appears to have driven him on even more to assert his power. Van Gerwen is seemingly easing to victories right now and is streets ahead of his rivals heading into the biggest tournament of the year. Mighty Mike had a dream November, winning all four of the main tournaments including the Grand Slam and Players Championship Finals.
The only man to have stopped Van Gerwen on this incredible major run is Robert Thornton who in the Grand Prix Final beat the Dutchman 5-4. Thornton has had a very solid year since being dropped from the Premier League however, rising to number 6 in the PDC Order of Merit and hopefully with a strong World Championship performance, he can't be left out again.
Another two men who have grabbed some of the headlines away from Michael Van Gerwen in the last few months were BDO players Andy Fordham and Martin Adams. After everything Fordham has been through it was fantastic to see the big man back on the big stage hitting a 180 with his first three darts. It may be unusual to see the BDO players get such a positive reaction from a PDC crowd but these two players had the character to light up the tournament. Off the oche they also provided talking points with their war of words with Phil Taylor and Peter Wright respectively. Adams made it the further out of these two players before being knocked out by Kim Huybrechts in an exhilarating second round match which finished 10-9 to the Belgian. I have personally never been a supporter of any campaigns to try and merge the two rival darting organisations but after this tournament a part of me was starting to change its mind.
All in all however it has undoubtedly been Van Gerwen's autumn and anyone backing any other player for the World Championships would be a brave man. After relinquishing his crown to Gary Anderson last year, I believe he will become a two-time world champion.
I have got my tickets, I am ready to go and now the darts will do the talking.
The following two tabs change content below.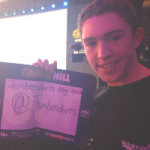 Hailing from Yorkshire, England, 16-year-old Jamie "Jambo" Barron is a passionate darts fan who is looking forward to taking A-Level Media Studies and pursuing a career in sports journalism. More of Jamie's excellent writings can be found at his blog: http://www.jambosdarts.blogspot.co.uk/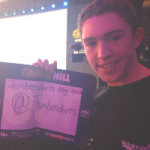 Latest posts by Jamie Barron (see all)