#JB42 The Definitive Darts Coaching Manual
Sunday, March 22, 2015
Column JB42
The Definitive Darts Coaching Manual  
After reading Jamie Caven's excellent autobiography which was co-written by David Kirby, I decided it was time to read another of his books. Again after reading one of David's publications, I felt much more knowledgable about a sport I already thought I knew a lot about!

If you have read any of David's books before you will know that he writes in a professional style but with informal features which appeal directly to the reader. David's tips and advice will be able to benefit any darts player of varying ability across the world. Although it is a short book of only 70 pages, this allows you to quickly take in the key information which is communicated in an effective and concise way with key points emphasised throughout.

Let me tell you a little bit more about David Kirby. David is an author and playwright but his passion for coaching has undoubtedly played a major role in his life. For many years, David took part in coaching athletics and martial arts. He chose to write a darts coaching manual as he wanted to bring coaching discipline used within these sports to darts and benefit darts players worldwide. David has obviously implemented this discipline into his own game as he has himself played in and managed a successful county darts Super League team.

This book really is suitable for anyone with the slightest interest in darts either through personal improvement or through coaching others. I am a strong believer that in any sport the mental side of the game is as crucial to success as ability and David reflects this by studying both the physiology and psychology involved in being the best darts player possible. I, like many sportsmen, believe in the 4 Cs which are vital to ensure you have the mental strength to succeed: concentration, confidence, control, and commitment. Without any one of these your chances of success are substantially reduced.

Onto the content of David's book which covers every aspect of the game. From practice routines, to warm ups and to finishing, David's got it covered! The main message I took from the book along with all the knowledge I gained was that it really isn't impossible to become a darts player. Through hard work and structure, anyone with the right commitment can improve their game. As David states throughout, there are many tips as to how to focus during games, keep a high level of concentration and maintain those nerves as well as how to improve your technical ability. But he recognises that everyone is different and some people prefer to practice and perform in different ways. Spend time on darts, perfect your routine and find your mantra and you are undoubtedly on the way to success.

My advice for darts fans and players reading this book is to thoroughly read the whole publication first. Take in what you can and focus on the key areas in which you think your own game can improve. However, this is not just a book you can read and then place on the bookshelf never to be touched again. It is an excellent reference tool for when you are planning your weekly routine, practice routine or playing the game itself. Some key areas of the book are the chapters on finishing and record sheets which can physically be used to help you calculate the best way to finish and to record your practice routines.

To finish, I want to explain the impact this book has had on me…  
I have played darts leisurely for around eight years now without making huge progress. Especially in the last year where I have focused more time on the dart board, my game hasn't hugely improved. I roughly have a three dart average of between 40 and 45 and although I am capable of hitting 20-25 dart legs, I only consistently finish legs in around 45 darts or less.  
Whether this is due to sliding into the 1s or being stuck on a double, it varies every time. By reading David's book, I was able to identify weaknesses in my approach and aim to improve them. I realised that although I couldn't vastly change the amount of time I spent at the dart board, I could focus my sessions more. 
Therefore, based around David's ideas, I have created my own practice routines and created score sheets to pin next to my dart board and record my improvements. So far I am pleased with the results and enjoy the sessions much more as they replicate the competitiveness of a match – always wanting to beat my previous best.  
I hit my first 180 in over six months last week and I hope I can transfer this form to my matches on Webcam Darts and in darts leagues in the future. One thing's for sure, if you want to improve your game in any way, The Definitive Darts Coaching Manual will help you succeed.
The following two tabs change content below.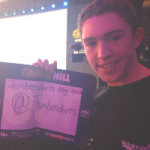 Hailing from Yorkshire, England, 16-year-old Jamie "Jambo" Barron is a passionate darts fan who is looking forward to taking A-Level Media Studies and pursuing a career in sports journalism. More of Jamie's excellent writings can be found at his blog: http://www.jambosdarts.blogspot.co.uk/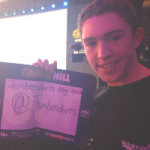 Latest posts by Jamie Barron (see all)