Column #JB41 Mighty Mike is on a Mission!
Tuesday, March 10, 2015
Column JB41
Mighty Mike is on a Mission!
"Where have I been?", you may ask and to be honest with you, I don't know the answer! For the first time since I began writing this blog nearly 14 months ago, it is the longest I have gone without writing a post and I'm gutted I've missed out on such an incredible run of darts. I've had a very busy month from playing darts in France to more and more college work. I know many of you are sick to death of hearing darts stereotypes so please don't also fall into the stereotypical view that students today have it easy! Over 200 pages of coursework for one subject would say otherwise!
It's not just my busy schedule either that has prevented me from sharing my darting views recently. Strangely I felt like I had slightly fallen out of love with the game, whether this was due to my upset at the Premier League lineup or due to my favourite player Andy Hamilton falling down the rankings. I think within any sport it's important to have someone to cheer on and when that player is struggling it's a difficult time.
However, luckily this weekend, the UK Open restored my love for the game and reminded me why we all spend hours and hours playing and watching the game. It surprised me really. The UK Open has never been one of my highlights of the year, remember back to my tournament review exactly one year ago tomorrow where I was unconvinced of the venue and coverage of the event. But this year felt different.
It was the first time that Minehead in Butlins has properly impressed me as a venue. Despite the board being a long way from the crowd, I thought they were excellent all weekend and especially on the Sunday where they were in great voice. In all fairness, they had no excuse not to be excited after Peter Wright's incredible run to the final which meant they got to see his wacky walk-on three times in one day. As Stephen Bunting joined in with his 'dancing,' if we can call it that, I certainly was out of my seat! While on the topic of entertainment, what a pleasure it also was to see Devon Peterson back on the big stage as he rivaled Wright with his moves!
My only criticism of the UK Open again relates to the coverage. Many darts fans may disagree with this as I have seen mixed reactions on Twitter but I think Sky Sports are at the very top of their field. For me, switching from Sky Sports coverage to ITV coverage is like leaving a West End show to watch your local pantomime! The cameras are slow to react and often miss shots, the score is slow to update and give checkout options but most importantly, ITV coverage currently lacks that spark. Sky Sports have this ability to create drama. I honestly believe they could make a game of Conkers fascinating to watch! It's the pundits, the commentators (Yes, I include Wayne Mardle), the VT's and the music which all contribute to the excitement. Sky Sports have this passion for the game which ITV are currently lacking.
Back to the dart board however and it was an incredible weekend of high quality darts. 'The FA Cup of Darts' had everything it should. The underdog come good with Andrew Gilding reaching the semi-finals, there were almost tears on the big stage as Peter Wright overcame an in-form Phil Taylor but most importantly, the best man won. Michael Van Gerwen was able to see off 146 other participants to claim his maiden UK Open title.
Since I saw Van Gerwen lose his World Championship Semi Final, he has been on a mission to put it right. He has looked undefeatable at times to prove that he is going to be around winning darts tournaments for a long time to come yet! He has taken his game to the next level as despite his competition arguably being fiercer that ever, he is still able to come out on top.
Just after my last post, Van Gerwen went to Milton Keynes and triumphed over Raymond Van Barneveld in an all Dutch final to win the Unibet Masters crown and since then he has gone from strength to strength. He went on to win 3/6 of the UK Open Qualifiers in March as well as winning the first European Tour event of the year in Germany. This run is incredible when you also consider that Phil Taylor has been playing well with World Champion Gary Anderson also not to be discounted. Van Gerwen has certainly proved that he does not like losing, he is a worthy world number 1 and come January next year, I wouldn't back against him regaining the Sid Waddell trophy from the hands of the Flying Scotsman.
To finish with, I wanted to quickly discuss the Premier League as the players start to look dreadfully at Judgment Night which is already on the horizon. The standard of darts again this year is ridiculous and I think it is only a matter of time before we see a Premier League 9-darter for the first time since 2012. Flicking back to the UK Open momentarily and both Phil Taylor and Andrew Gilding exited the tournament with a 108 average in their final match. This is becoming a regular occurrence now, players are averaging well over 100 in matches and still managing to lose. It makes me think how good can the standard get? If they continue to improve at this rate, will we begin to see averages of over 115 on a regular basis?
This standard is probably the main reason for the Premier League table being so tight. I believe that anyone in this year's Premier League could beat any other player on their day and that is what makes it so exciting and unpredictable. I certainly won't be making any predictions this year but as it stands, Dave Chisnall is certainly proving me wrong. He stands top of the tree with an impressive unbeaten record which includes an emphatic 7-2 win over World Champion Gary Anderson last week where he averaged over 110.
The Premier League continues this week in Nottingham before the players head to Barnsley for a weekend of Players Championship qualifiers. With the form of Michael Van Gerwen, it's difficult to see past him over the next few weeks in particular. However, one thing for sure is that I am going to be watching every Thursday Night cheering on Peter Wright and Stephen Bunting, currently my favourite two players, and I would love it if they beat the drop.
The following two tabs change content below.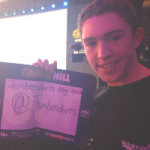 Hailing from Yorkshire, England, 16-year-old Jamie "Jambo" Barron is a passionate darts fan who is looking forward to taking A-Level Media Studies and pursuing a career in sports journalism. More of Jamie's excellent writings can be found at his blog: http://www.jambosdarts.blogspot.co.uk/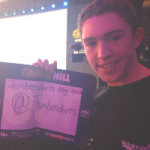 Latest posts by Jamie Barron (see all)