Column #JB37 First Round Round Up!
Wednesday, December 24, 2014
Column JB37
First Round Round Up!
I'm going to keep this as short and sweet as possible as I don't want to interrupt your Christmas preparations too much but I felt I had to write about what has been an incredible first round at the William Hill World Championship. Less than one week ago, the tournament kicked off with 72 players battling it out for the title and now only 32 remain. In this time, seeds have been falling like snow should be at this time of year and I'm sure you wouldn't have predicted this second round line up at the beginning of the action!
From the opening game of the tournament where 2 time World Champion John Part exited the party with a 3-2 defeat to youngster Keegan Brown, the tone has been set. A total of nine out of the 32 seeds have headed out of the tournament before Christmas including Simon Whitlock, Mervyn King and Wes Newton. The quality has been high but the drama has been even higher with refereeing errors, 170 checkouts and even darts falling out of the board! The best match of the first round is hard to decide on but if you only get the chance to catch up on three matches, I would suggest the Max Hopp, Vincent Van Der Voort and Benito van de Pas games will set your Christmas alight!
Despite the seeds dropping like flies, the main contenders predicted by Sky last Thursday all still remain in the tournament.  Last night, Lewis showed he means business as he hit the highest average of the tournament (101.90) but he is only one of many players who have turned up on the big stage looking confident. I still can't confidently predict who will win this year's tournament but after the second round we will have a much better idea as big names are guaranteed to drop out.
When looking at the next round, I was very excited about the matches ahead but also disappointed that such great players are meeting at this early stage. The highlight of the second round looks to be the clash between James Wade and BDO World Champion Stephen Bunting. This draw highlights how the seeding system doesn't always work, especially when talented players transfer from the BDO. Although at the end of the day, only one player can win this great championships and to be the best, you have to beat the best!
Looking ahead even further to potential last 16 ties and I think if both players make it through their second round games, Terry Jenkins could provide a huge shock as he takes on Michael Van Gerwen. Another potential last 16 tie is Adrian Lewis against Raymond Van Barneveld and if both players recreate their first round form, it will be the greatest third round game ever seen!
After that brief round up, I will leave you to go back to stuffing your turkey, making your trifle or buying those last minute presents! I wish you all a very Merry Christmas from myself and everyone at Dartoid's World and all the best in 2015. Thank you all for your support, views and comments over the last 12 months and I look forward to continuing my writing in the new year.
Merry Christmas, Happy New Year but most importantly… enjoy the darts!
The following two tabs change content below.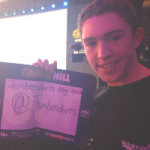 Hailing from Yorkshire, England, 16-year-old Jamie "Jambo" Barron is a passionate darts fan who is looking forward to taking A-Level Media Studies and pursuing a career in sports journalism. More of Jamie's excellent writings can be found at his blog: http://www.jambosdarts.blogspot.co.uk/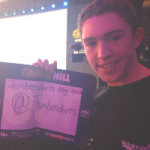 Latest posts by Jamie Barron (see all)