Column #JB34 Old vs. Young…
Wednesday, November 19, 2014
Column JB34
Old vs. Young…
Old age is like everything really, to make a success of it you've got to start young! Incidentally, Phil Taylor didn't seriously take up the game until he was 26 which makes me think how good these young players could become today! The World Grand Prix 2014 however was a tournament which showed that age is just a number as Taylor overcame the competitive field to win his 6th Grand Slam title at the age of 54. Taylor's triumph also made it 7-1 to the PDC in Grand Slam titles against the BDO but I won't mention that or I risk being branded a BDO basher… again!
In my last post, I wrote that 'Taylor's year continues to disappoint his fans'. I knew I shouldn't have said that. Yet again Taylor came back with a bang, like he always does, with one of his most successful tournaments yet. Taylor kicked off his campaign with a 5-0 victory over Richie George, son of PDC legend Bobby George, before beating Christian Kist 5-1 with an all time record average for the competition of 114.65. He then beat fellow Stokee Andy Hamilton in his final group match to top his table with an impressive +11 leg difference and 6 points. In the first knockout stage, Mr. Taylor was initially losing to Peter 'Snakebite' Wright but he eventually won the match 10-4 before crushing Michael Smith 16-3 in the next round. As a result, this set up a clash against old rival Mervyn King in the semi final in which Taylor led throughout the match and won 16-9. In the final, it was a repeat of the World Grand Prix final of 2013 as Taylor took on Chisnall and although it wasn't a repeat of that hammering, the outcome was the same as Taylor won the match 16-13 with a 102.45 average which meant he averaged over 100 in every match throughout the tournament. Despite the predictable final result, it was an excellent match in which Chisnall showed he can battle it out amongst the big boys with a gutsy performance. He had bounced back from being 5-0 down at the beginning of the match.
I think this tournament showed that darts is more open and unpredictable than it has ever been before. You may argue this with Taylor winning again but did you predict Taylor would win at the start of the week? Michael Van Gerwen and James Wade were the two form players going into the event but they both failed to make the semi finals. On the other hand who would have predicted out of form Kim Huybrechts would hit a 9-darter and knock out world champion Van Gerwen? This shows that no one can predict what's going to happen in the world of darts and that's why it's the sport we know and love.
Therefore, I think this winter's World Championship will be one of the most unforeseeable major tournaments that we have ever had. Maybe there are only about 6 or 7 players that can realistically lift the trophy but I believe that more than 20 different players are in contention for the semi final spots. Thus I am not going to make any predictions but the bookies have now got Taylor as the favourite at 7/4 with current world champion Van Gerwen at 2/1.
On the subject of predictions, it was a tournament of limited success for my players to watch out for as Stephen Bunting and Gary Anderson both made it out of Group H. Ironically, it was the star of my previous article, Mervyn King, who knocked them both out! Anderson resoundingly lost 10-4 to 'The King' in the second round and after Bunting secured a fantastic 10-8 win against James Wade he came up short against King in the quarter finals by a scoreline of 16-9. Subsequently it meant it was another impressive tournament for Mervyn King who seems to be on his best run of form since moving to the PDC and I now believe that next year King will return to the Premier League and Bunting will make his debut.
However, in my opinion, these 3 players weren't the players to make the biggest impact on the Grand Slam. I think they were Dave Chisnall, Kim Huybrechts and Keegan Brown. Chisnall is now a seasoned professional on the PDC tour having moved to the PDC in 2011. Since then I believe that Chisnall has shown potential without really threatening for the majors. This is summed up by him earning a Premier League place in 2014 but only achieving 7th place. I think he is similar to many players in the world's top 20 who have the potential but just need that extra spark to win their first major. Will his run to the Grand Slam final provide him with this spark? He will need it going into the World Championships as he has never made it past the third round of the illustrious tournament.
I think going into the Grand Slam, Huybrechts was in a similar position to Chisnall as despite having the experience of the PDC tour, he has never really lived up to his potential. Huybrechts also moved to the PDC in 2011 and it was predicted he would be one of the rising stars on the circuit but since then he has only reached one major final at the Players Championship. However, despite still not reaching another final at the Grand Slam, his run to the semi finals will give his fans cause for optimism. He caused the biggest shock of the tournament when beating Van Gerwen in the quarter finals in which he hit his first ever televised 9-darter and beat the world champion 16-10. Incredibly, he was leading the match 12-3 at one point which showed the level at which he was playing. Even Huybrechts' exit from the tournament can be considered unlucky as he lost 16-15 to Chisnall in the most exciting match of the week. If Huybrechts can recreate this form at the Alexandra Palace, he will undoubtedly progress to the later stages.
Keegan Brown was probably the biggest surprise package of the tournament. Before the tournament you may not even have heard of Keegan Brown and I didn't even know much about him… but we do now! The 22-year-old progressed through his group with a 5-1 win over two time world champion Adrian Lewis before beating fellow youngster Rowby-John Rodriguez 5-3. On top of the world, he then beat Raymond Van Barneveld in the second round 10-7 before narrowly losing out to Chisnall 16-14 in the quarter finals. His celebrations in particular attracted even more attention but his results won't have been a shock for Simon Whitlock. Whitlock is Brown's mentor and saw him lift the 2014 World Youth Championship. I'm sure Whitlock is now wishing he could recreate the form of his apprentice!
Finally, the Grand Slam showed what an excellent position darts is in currently with talent stretching from all corners of the globe. The Players Championships are up next but my thoughts are already at the World Championships which is now just a month away. I'm hoping you won't miss a minute of the action with Sky Sports new dedicated darts channel and I will be get to witness the event first hand at the Alexandra Palace. One thing's for sure, if we can recreate the crowd noise from Wolverhampton it will be an excellent atmosphere but maybe the endless singing of 'Hey Baby' might not be necessary!
The following two tabs change content below.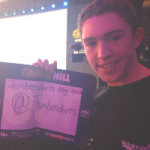 Hailing from Yorkshire, England, 16-year-old Jamie "Jambo" Barron is a passionate darts fan who is looking forward to taking A-Level Media Studies and pursuing a career in sports journalism. More of Jamie's excellent writings can be found at his blog: http://www.jambosdarts.blogspot.co.uk/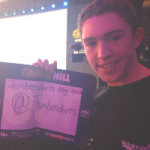 Latest posts by Jamie Barron (see all)