Column #JB33 Return of the King?
Tuesday, November 4, 2014
Column JB33
Return of the King?
He's reached a Premier League final, hit two televised 9-darters and been a regular in the world's top 16 over recent years but I still think Mervyn King hasn't lived up to his potential. Well, not yet he hasn't. Could this be his time though as he now seems to have put his high profile controversies behind him and based on recent performances, he looks ready to surge up the rankings once again.
Mervyn King has been playing professional darts for 20 years but he only made his switch to the PDC in 2007 despite allegedly claiming to BDO press officer Robert Holmes that he would "rather pack up darts than play for the PDC." However, during the 2007 BDO World Championships, when rumours surfaced about his switch to the PDC, he even threatened to quit the tournament. Eventually when he did move to the PDC, the BDO threatened legal action against King as because he had reached the semi final of their World Championships, he was then obliged to return the following year.
Back to the dart board and King had a very successful first year in the PDC by reaching two semi finals and quickly climbing to number 13 in the world. He was even awarded the Best Newcomer Award at the PDC Awards Dinner. In 2009, his performances continued to improve as he reached the World Championship and World Matchplay semi finals and he therefore surged to World Number 6. In the same year, King also hit his first ever televised 9-darter which was followed up by another in the 2010 UK Open. However, the highlight of 2009 for King was undoubtedly his run to the Premier League final.
Moving on to 2010 and again King reached the semi finals of the Premier League but this time Phil Taylor prevented him from reaching another final. Despite this, the rest of the year only brought limited success and he failed to qualify for the 2011 Premier League.
Since 2010, King has been a steady player on the PDC circuit without pulling up any trees.  His lack of form towards the start of this period was possibly linked to his father's death as his father was a regular presence at the major tournaments. As a result, it wasn't until 2012 that he reached another major final in the Grand Prix where he met future World Champion Michael Van Gerwen. However, despite leading 3-0, he went on to lose the match 6-4 and King was quick to blame the crowd for his collapse after they booed him on his doubles. This was only one of King's many controversial moments.
His largest controversy to date was in the 2009 Premier League match when he threw a dart over Taylor as he went to pick up his flight. During the post-match interview, neither of them would look each other in the eye. This resulted in King becoming somewhat of a target by the crowds boos and in another Premier League match this riled him to extreme lengths as he stopped mid throw and made gestures back towards the fans. Other controversies include him blaming the air conditioning and even the length of the oche for his defeats! Fellow players have even accused King of shouting while they were throwing and he exchanged heated words with John Henderson on stage during the 2010 Grand Prix.
However, it seems like King has put the controversies behind him this year as he has returned to form by winning European Tour 7 in September, as well as reaching the final of the Dutch Darts Masters and the semi finals of the UK Open and European Championship. More recently however, last weekend he reached another final at the Unibet Masters where he defeated Van Gerwen 11-9 in the semi final with a fantastic performance. In the final, he came across James Wade and led 5-0 after the first session with a 110 average and he then moved 9-2 in front. Despite this, he couldn't complete his maiden major victory as he squandered 8 championship darts to lose 11-10. This means he still hasn't won a major and therefore his doubters will still hold this against him. But my question is, with this being one of his most successful years, has he done enough to get back into the Premier League?
In addition to Mervyn King, Michael Van Gerwen and James Wade are also in fine form. At Crawley, James Wade won the 17th Players Championship and then lost to Van Gerwen in the final of the following tournament the next day. In the final tournament in October, Van Gerwen triumphed again in the European Championship in Germany as he hit a 9-darter against fellow Dutchman Raymond Van Barneveld in the semi finals before defeating Terry Jenkins to claim another major crown. Incredibly, despite only winning his first major just over two years ago, at the age of 25, only Phil Taylor has won more major titles than him. Then as previously referenced, James Wade won the most recent major with a victory in the Unibet Masters. Surely now Wade has nailed down his return to the Premier League next year and if Van Gerwen continues in this vein, could he ever break Taylor's records?
In contrast, Taylor's year continues to disappoint his fans. After a disappointing start to the year in the Premier League, he looked back on track when he won the World Matchplay in July but since then he has failed to kick on and failed to reach the final of the last three events. For the one millionth time, everyone will ask whether Taylor has come to the end but I have learnt never never to write him off.
Finally, the Grand Slam of Darts is now on the horizon and the draw took place on Monday. It was an interesting draw which paired together Wade and King, for a repeat of their scintillating final last weekend, as well as Anderson and Bunting who are my two players to watch out for this winter. Again, this is one of my favourite tournaments with the group stage providing a unique selling point. Another reason why I love this tournament is it gives us the chance to see the PDC up against the BDO, so far it is 6-1 in terms of championship wins, favouring the PDC but that is largely due to Taylor's five victories! So on the 8th November we begin this wonderful tournament and then it is only one month to go until all eyes will turn to the Ally Pally for another World Championship.
The following two tabs change content below.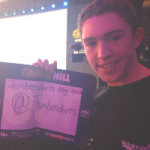 Hailing from Yorkshire, England, 16-year-old Jamie "Jambo" Barron is a passionate darts fan who is looking forward to taking A-Level Media Studies and pursuing a career in sports journalism. More of Jamie's excellent writings can be found at his blog: http://www.jambosdarts.blogspot.co.uk/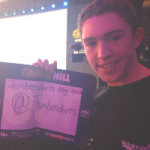 Latest posts by Jamie Barron (see all)