#JB32 Does darts get better than this?
Tuesday, October 14, 2014
Column JB32
Does darts get better than this? 
Last time I wrote an article it was on the eve of the best World Grand Prix we have ever seen. Wow. That was one hell of a tournament! If you didn't enjoy that then I suggest you need a personality transplant! It had everything didn't it?
When I asked at the end of my previous article if there would be a 9-darter or a first round shock, I was only being optimistic, I didn't really believe they would both actually happen! It's like buses really, you wait 3 years for a 9-darter in double start format and then two come along in the same match!
The match in which they came was in the second round between James Wade and Robert Thornton and it was one of, if not the, best darts matches I have ever seen. Incredibly, Wade was on the receiving end of the only other 9-darter in Grand Prix history in 2011 against Brendan Dolan and he repeated the feat himself this year with a perfect bullseye shot. Then only 2 sets later, Thornton replicated the feat with a 9-darter of his own. This feat was extra special for Thornton as he had come through an incredibly tough week because he attended his mother's funeral earlier that same day. I believe that every darts fan has huge respect for Thornton for continuing the tournament and performing to such impeccable standards. This is why many of us were gutted to see him miss 4 darts to win the match as both players thoroughly deserved to progress.
As for the first round shocks, they were provided by Gilding, Mansell, Painter, Winstanley and Burnett who all won against higher ranked opponents. Even Daryl Gurney had match darts to beat twice World Champion Adrian Lewis! But the shocks didn't end in round 1 as Kevin Painter staged an unbelievable comeback from 2-0 down to beat Lewis 3-2 and then the biggest shock of the tournament came in the quarter finals when 11-time Grand Prix winner Phil Taylor was knocked out by in form James Wade on his way to the final. These shocks prove to me that this is definitely one of the most exciting and dramatic tournaments around and this is ultimately due to the double start format and the short matches. Also to make you aware that I'm getting better at these predictions! My players to watch out for, Gary Anderson and Stephen Bunting, both reached the semi finals. Just saying…
However, despite all these shocks, it was still the World Number 1 and reigning World Champion Michael Van Gerwen who regained the crown. This tournament undoubtedly holds special memories for him as it provided him his first major tournament win two years ago. Once again, Van Gerwen showed that he is going to be a force to be reckoned with for many years to come. In addition, this tournament was also a huge success for James Wade but he will surely be disappointed he couldn't win his third World Grand Prix title. Despite this, this tournament gave us a glimpse of the James Wade we first saw when he broke onto the darting scene and it was wonderful to see him back to his best. I'm not going to lie, I have never been his biggest fan but he is a real asset to darts when he is at his best and he will surely regain his Premier League place if his form continues.
On the other hand, there were a few slight disappointments in this tournament. On a personal level my favourite players all went out early in the competition. Furthermore, I was personally slightly disappointed with the crowds – was it just me or did they seem relatively quiet? Many people are suggesting the high ticket prices are to blame. Another way I think the tournament could further improve is with a slight tweak to the schedule. I think even the most dedicated darts fan would struggle to watch all the action of the tournament which occasionally went into the early hours of the next morning. Therefore (I know that there is a jam-packed yearly schedule in the PDC) for the fans sake, I think it would be beneficial to somehow change the schedule to avoid the late school nights!
Finally, it was also disappointing to see Raymond Van Barneveld "give up" on the big stage. However, the game is going or whatever the score is, no professional player should ever throw their toys out the pram. Yes, he was struggling with a back problem but if it was that bad he should have pulled out of the game and if it wasn't then he should have just given it his all! It is so frustrating as a big Van Barneveld fan to see him do this as he now risks dropping out the World's Top 16 despite being Premier League Champion.
So where do we go next?
ITV are broadcasting the next two big tournaments with the European Championship in Germany being held at the end of this month and then the Unibet Masters at the beginning of November. This is then followed by the Grand Slam of Darts back on Sky Sports on the 8th November.
I am still backing my players to watch to succeed again in these tournaments (see post on 7th September). However, It will be very difficult to recreate the drama and quality of the World Grand Prix but let's see what happens because after all… you never know what's around the corner!
The following two tabs change content below.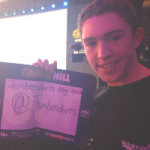 Hailing from Yorkshire, England, 16-year-old Jamie "Jambo" Barron is a passionate darts fan who is looking forward to taking A-Level Media Studies and pursuing a career in sports journalism. More of Jamie's excellent writings can be found at his blog: http://www.jambosdarts.blogspot.co.uk/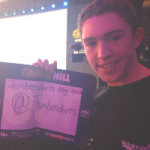 Latest posts by Jamie Barron (see all)