JB#27 World Matchplay Preview
Friday, July 18, 2014
Column JB27
World Matchplay Preview
It's that time of year again for all darts fans to turn their attentions to the seaside town of Blackpool for the World Matchplay. Every proper darts fan will know that the World Matchplay is not just any normal darts tournament but it is in my opinion the second biggest tournament of the year, narrowly behind the World Championship. So what is it about the World Matchplay that makes it such a special tournament?
Firstly, I think the venue is a key factor for the success of the World Matchplay with many players including Phil Taylor calling it their favourite venue on the darting circuit. The Winter Gardens in Blackpool almost feels perfectly designed for the darts as Phil Taylor says, "It's a special place, it's a venue that everybody wants to play in and it has something magical about it". Not only is the Winter Gardens a special place, but so is Blackpool and by staging this tournament in the middle of the summer, it gives the tournament a feel good factor as there is actually a chance it might not be raining! In addition to the venue, the format of the event also leads to its success as in my opinion, leg play is much more entertaining than set play as every leg counts. This traditional format means that the games are full of drama and the length of the matches also helps to make sure the best player on the day normally progresses into the next round.
Next, lets rewind 12 months to July 2013 as we hit the build up to last year's World Matchplay. Let me set the scene for you, Andy Murray had just won Wimbledon to be the first Brit to win the title in 77 years; Same-Sex marriage was legalised in England and Wales and The Duchess of Cambridge gave birth to Prince George. Meanwhile in the darting world, Michael Van Gerwen had won his first Premier League crown and Phil Taylor had won his 5th UK Open title. Therefore, the anticipation for the World Matchplay was extremely high and it did not disappoint. After a week of high quality darts, all 4 of the top seeds reached the semi finals before Phil Taylor overcame his apprentice Adrian Lewis 18-13 in one of the highest quality darts matches ever! While Lewis averaged an incredibly respectable 105, Taylor averaged over 111 which meant he had achieved an average of over 100 in every match of the tournament. Therefore, the overwhelming feeling coming out of last year's tournament was that Taylor was still the man to beat as his 14th World Matchplay triumph means he has now won over 70% of all World Matchplay's. Consequently, this shows how unpredictable darts can be as only 1 year later, Taylor is arguably in the worst form of his life and there is a new favourite heading to Blackpool.
So, back into the present day, what should we expect from the 2014 World Matchplay? Will it be the time for a new champion or will the advantage of experience be crucial? No matter who wins this year's tournament, it promises to be one of the best World Matchplay's ever as not only is it a memorable year because of the World Matchplay's 20th anniversary, but I also think the strength of the whole field this year is stronger than ever. I honestly believe that you can make a strong case for more than 10 different players to lift this year's trophy. My regular readers will know that after my disastrous attempt to predict some of the Premier League, I should probably veer away from the prediction trade…However, I am going to live in the moment and give it a whirl anyway! The bookies are heavily backing Michael Van Gerwen to be celebrating on the 27th of July which means it is the first time in my life I can recollect Taylor not being favourite for a major tournament. Despite this, I am not going to be cowardly and just predict the favourite for this tournament. My main prediction is Peter Wright who I believe can be a real dark horse for the title and at 22-1, he is a fantastic bet. After he won the biggest title of his career at the European Darts Open last weekend, he believes he is getting "better and better" and I think he can push on and win his first major title. Although, he has been given a incredibly difficult first round match against BDO World Champion Steven Bunting, if he can get through that match, he has a favourable draw through to the semi finals. Other players that I predict could provide a shock are Jamie Caven and Vincent Van Der Voort as even though they have difficult first round ties, they are both in excellent form after wins on the European Tour. My final player to look out for is Andy Hamilton, not so much a prediction, but as my favourite player, I would love to see him break his major hoodoo and become the second 'Stokey' to lift the World Matchplay trophy.
The following two tabs change content below.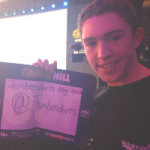 Hailing from Yorkshire, England, 16-year-old Jamie "Jambo" Barron is a passionate darts fan who is looking forward to taking A-Level Media Studies and pursuing a career in sports journalism. More of Jamie's excellent writings can be found at his blog: http://www.jambosdarts.blogspot.co.uk/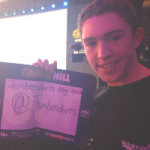 Latest posts by Jamie Barron (see all)