Column JB#28 Taylor's Blackpool Love Affair Continues
Wednesday, July 30, 2014
Column JB28
Taylor's Blackpool Love Affair Continues
After another tantalising tournament, Phil Taylor has done it again. Nineteen years after his first World Matchplay title, Taylor has extended his unbeaten Blackpool run to 7 years and an incredible 35 matches. How does he do it?
In my World Matchplay Preview, I did what no darts fan should do and doubted Taylor's chances of winning it again. I stated that Taylor was in 'arguably in the worst form of his life' and announced there was a new favourite heading to Blackpool. However, I will not take sole responsibility as I doubt the great man has ever even come across my work! The whole darting world was doubting Taylor before the tournament including the best pundits in the business. Therefore, we should all take responsibility as we should have remembered that Taylor thrives off proving people wrong.
So again lets rewind to my preview of the tournament when I was so excited for the tournament that I said it promised to be one of the best World Matchplay's ever and from the very first round, the tournament lived up to expectations. In the first round, Taylor easily overcame Darren Webster 10:4 with a confident display which showed that he really felt at home back at Blackpool. Also in the first round, my prediction curse struck again as all 3 of my predictions for this year's tournament went crashing out. Firstly, Vincent Van Der Voort set the tone with a nightmare performance against fellow Dutchman Raymond Van Barneveld. This was then followed up on the Monday night with Peter Wright's underwhelming performance against an inform Steven Bunting who showed he is going to be a handful following his move from the BDO. My final prediction was Jamie Caven who did provide me with a bit of hope when he led Gary Anderson but the Flying Scotsman showed he had just enough steam to force his way past Caven and win 10:8. So after those disastrous predictions I decided to keep my expectations to myself but after Adrian Lewis' stunning 10-0 whitewash of Andrew Gilding, I did think there could be a different 'Stokee' lifting the trophy.
I think however that bizarrely my failed predictions actually show darts in a very good light. I am not trying to divert the blame here but all of my 3 predictions had won on the European Tour this year and this shows how competitive all the darts players are today and this is what makes our sport so unpredictable and entertaining. This may seem ridiculous as the same man has now won the tournament 15 times but Taylor is a force of nature and his records will never be repeated.
Moving onto the Second Round, I was disappointed that my favourite player, Andy Hamilton was narrowly beaten by Dave Chisnall. In all honestly, I never had much faith he could win his first major as despite his 10:3 first round win, his opponent Wayne Jones only averaged 82! Meanwhile the other major headlines from the Second Round were Raymond Van Barneveld losing out to Simon Whitlock, Gary Anderson knocking out Stephen Bunting and Wes Newton edging out Paul Nicholson 15:13 after a titanic tussle. However, there was 1 headline bigger than all of these as Taylor hit his 10th televised 9 darter in his 13:6 win over Michael Smith who had ironically knocked Taylor out of the World Championship 7 months earlier.
Onto the Quarter Finals which actually produced 4 clear winners in Van Gerwen, Whitlock Taylor and Anderson, with Anderson's 16:8 victory over last year's finalist Adrian Lewis arguably being the best performance. This meant that 3 of the top 4 seeds had made it to the Semi-Finals which again shows why the World Matchplay is such a great tournament as the long format really gives the chance for the quality to shine through. However, it was the semi finals which probably provided the best entertainment of the tournament as both matches were fantastic contests. After 26 legs between Whitlock and Van Gerwen, it was 13:13 before Van Gerwen showed why he was World Champion by winning the last 4 legs. In the other semi final, Anderson again put on a fantastic performance against The Power but despite winning 15 legs, it wasn't enough as Taylor eventually pulled through to win 17:15 and secure his place against World Number 1 Michael Van Gerwen in the final.
This meant it was the final that all darts fans dreamed of but disappointingly it was a very 1 sided contest. After winning the 2nd leg, Van Gerwen was only able to win 1 more leg out of the next 11 as Taylor stormed into an 11:2 lead. Van Gerwen wasn't playing particularly badly but he wasn't up to Taylor's incredible standard of averaging over 110 for the majority of the match. From 11:2 down, it was almost impossible for Van Gerwen to mount any sort of challenge and despite a small comeback at one point, he went on to lose the match 18:9 as Taylor controlled the match fantastically to win his 7th World Matchplay in a row. As Taylor was given the trophy, it was lovely to see the delight on his face as he was able to share the moment with his grandchildren but it was equally as upsetting to see Van Gerwen's tears on stage which showed how much passion he really has for the game.
So what can we take from the 2014 World Matchplay? Personally, I have learnt that I need to work even harder on my predictions and I think that the whole darting world have learnt again that Phil Taylor is definitely not finished. Many other sportsmen can't see what keeps up Taylor's motivation as he has won everything there is to win including 16 World Championships and 15 World Matchplay's! But the reason he keeps going is because he is a winner, a champion and a special darts player who just can't bare to see anyone else winning 'his' trophies. I honestly don't understand some of the criticism of Taylor I see on social networking sites and forums as every darts fan surely must have the upmost respect for what he has achieved and how he has benefitted our sport. I understand everyone has their favourite players but Taylor's career is extraordinary and whatever anyone says, he is one of the greatest sportsmen ever and undoubtedly the greatest player to ever play darts.
The following two tabs change content below.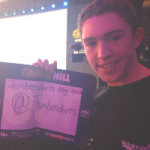 Hailing from Yorkshire, England, 16-year-old Jamie "Jambo" Barron is a passionate darts fan who is looking forward to taking A-Level Media Studies and pursuing a career in sports journalism. More of Jamie's excellent writings can be found at his blog: http://www.jambosdarts.blogspot.co.uk/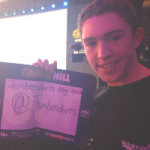 Latest posts by Jamie Barron (see all)