JB#23 – Premier League – Week 15
Friday, May 19, 2014
Column JB23
Premier League – Week 15
The Fantastic Four
After 15 weeks of scintillating darts, Brighton rounded off the League format of the Premier League 2014 and the night culminated in Michael Van Gerwen, Raymond Van Barneveld, Phil Taylor and Gary Anderson all making it through to the finals to fight it out to be Premier League Champion. Unfortunately, due to the 'lovely' British exam board planning both GCSE History and PE exams the next day, I was unable to watch any of the darts but thanks to the terrific technology of Twitter, I was able to keep up to date with the action.
Due to not being able to properly watch any of the darts, I am not going to try and describe the night based on what I have read as it is likely to be incorrect. Therefore I will just place the results of the night and averages below along with my predictions for the finals. Next week might also be difficult for me to watch the final of the Premier League and report on it but I will see where the tide takes me! However, I would like to say a huge thank you for all the support and comments I have received for this blog and at Dartoid's World. I have achieved over 4500 views on this blog since its introduction in January, which is amazing seen as it is targeted at such a niche audience. It feels like I am coming to the end of an era with the end of the Premier League 2014 but I will continue to write the blog throughout the year and on Dartoid's World.
Week 14 Results
(92) Dave Chisnall 4-7 Adrian Lewis (95)
(101) Gary Anderson 7-4 Raymond van Barneveld (96)
(95) Robert Thornton 5-7 Phil Taylor (101)
(104) Peter Wright 5-7 Michael van Gerwen (110)
Final Predictions
Raymond Van Barneveld is the only player in the top 4 that is yet to win the Premier League and I am going to stick my neck out and say he still won't win the competition this year. Therefore, I predict that Phil Taylor will make the final but I don't think he will win it. Neither do I think Michael Van Gerwen will win. Prepare for a shock darts fans! I predict that the outsider, the Flying Scotsman Gary Anderson will claim his second Premier League title. Tune in on Thursday night, to see if I am right!
The following two tabs change content below.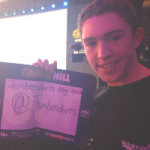 Hailing from Yorkshire, England, 16-year-old Jamie "Jambo" Barron is a passionate darts fan who is looking forward to taking A-Level Media Studies and pursuing a career in sports journalism. More of Jamie's excellent writings can be found at his blog: http://www.jambosdarts.blogspot.co.uk/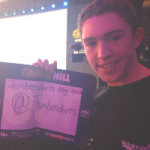 Latest posts by Jamie Barron (see all)