Column #JB21 Premier League – Week 13
Thursday, May 1, 2014
Column JB21
Premier League – Week 13
Full steam ahead as the Flying Scotsman defeats Van Gerwen
The best darts players in the world headed to Birmingham for Week 13 of the Premier League. This year's competition seems to flying by, so much so that the finals night at the O2 seems to be approaching as quick as my oncoming exams!
The night began with a high quality match between Robert Thornton and Dave Chisnall. Thornton already knew he couldn't make the play offs before the match but it didn't stop him making a flying start to the match with two 180's in the first leg. After the first 2 legs went with throw, both players missed darts at doubles in leg 3 before Chisnall responded to the jibes of the crowd by hitting D4 to break Thornton's throw. However, Thornton broke straight back in the next leg after hitting 5 perfect darts. The next 5 legs then went with throw despite Thornton averaging more than 10 points more than Chisnall for the majority of the match. This pressure paid off in leg 10 for Thornton as he hit D20 to break Chisnall's throw again and guarantee a point. In the end despite Chisnall breaking straight back in the next leg, he couldn't draw the match as Thornton ran out 7:5 winner. In this match, Thornton set the record for 180's in the 2014 Premier League by hitting nine 180's in the match which led to his average of 104.3. This loss for Chisnall realistically breaks his chances of a top 4 position and he went into the last game of the night against Phil Taylor knowing a loss would totally eliminate his hope for a play off place.
The oldest rivalry in the game was reignited between Phil Taylor and Raymond Van Barneveld in the second match of the night. After a poor first leg, the second leg sparked into life as Van Barneveld hit 4 perfect darts and Taylor hit 7 perfect darts before Taylor hit D10 to level the scores at 1:1. Taylor then built on this to win the next 2 legs to move 3:1 ahead before Van Barneveld returned the favour to level the scores at 3:3. Van Barneveld then showed the quality that has led to him guaranteeing a play off spot as he broke Taylor's throw again with the minimum of fuss to lead 5:3. After Taylor broke straight back in leg 9, leg 10 summed up what was in truth, a very poor match as both players missed numerous darts at doubles before Taylor finally hit D4 to level the match at 5:5. The last 2 legs both went with throw as Taylor checked out 104 to draw the match. It meant that Van Barneveld is still to defeat Taylor in Premier League history and Taylor's play off place still hangs in the balance.
The next match of the night again saw a player who was flying high in the Premier League take on an opponent who was fighting for their life to gain a play off place. This time it was Michael van Gerwen against Gary Anderson. Going into the match, Van Gerwen had celebrated his 25th birthday earlier in the week and Gary Anderson was living up to his nickname of the 'Flying Scotsman' as he was in the form of his life. The match started off with 2 holds of throw before Anderson broke the world champion's throw and then held his own throw with an excellent 108 finish to lead 3:1. Anderson then secured another break of throw in the next leg as even though he missed bullseye on a 170 checkout, he followed up to hit D12. After 5 barren legs for Van Gerwen, he eventually got another leg on the board to trail 5:2 but only after Anderson missed a dart to secure a point. However, Anderson did secure his point on D10 in the next leg and even though Van Gerwen then won the next 2 legs, Anderson rounded off the match with a 7:4 win. This loss won't have hurt Van Gerwen too much but it is a vital win for Anderson as he is still in with a great chance of earning a play off place.
Peter Wright went into his game against Adrian Lewis knowing he had to pick up at least a point to stay in the top 4. On the other hand, Lewis knew he had to win just to keep his miniscule chances of progressing alive. Wright was off to a bright start in the game as he broke Lewis' throw before holding his own throw to lead 2:0. Then after Wright missed two darts at D20, Lewis broke straight back by taking out 122 and levelled the match at 2:2 by also holding his throw. The breaks of throw then dried up as the next 4 legs went with throw after Lewis missed 2 darts at double to break Wright's throw in leg 8. In leg 10, Lewis did produce a break of throw and his timing was perfect as it also secured a draw for the man who had lost his last 4 matches. However, he couldn't transform 1 point into 2 as he let Wright back in to win the last 2 legs and steal a point on D12. This result means Wright clings on to his place in the top 4 but it means Lewis' chances of winning his first Premier League title are over.
Phil Taylor and Dave Chisnall returned to the stage for the final match of the night in a repeat of the 2013 Grand Prix Final in which Taylor whitewashed Chisnall 6:0. Chisnall knew he was up against it from the outset as Taylor broke his throw in the first leg and Taylor's determined celebration let Chisnall know that Taylor was in the mood for another whitewash. That whitewash certainly looked on the cards throughout the early stages of the match as Taylor won the first 4 legs with no reply. Chisnall had an opportunity to earn his first leg in the 5th leg but after missing 3 darts at D12, Taylor hit the same target to move 5:0 ahead. However, when Taylor missed the D16 on a 111 checkout, Chisnall did win a leg after he hit the D7. Despite this, Chisnall only won 1 more leg in the match as Taylor wrapped up the match 7:2. This rounded off a great night for Taylor where he picked up 3 points from his 2 games but it was a nightmare for Chisnall as he lost both his matches and as a result, lost his chance to get into the top 4.
Last week I made a bold statement that the top 3 of the Premier League had all but been secured. I was wrong! We know that Michael Van Gerwen and his dutch compatriot Raymond Van Barneveld have secured their play off places but Phil Taylor, Peter Wright and Gary Anderson are left to fight it out for the 2 remaining spots. I now believe that Taylor and Anderson will win those spots as they are both in fine form and Wright's run in looks increasingly difficult.
The following two tabs change content below.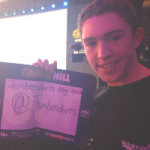 Hailing from Yorkshire, England, 16-year-old Jamie "Jambo" Barron is a passionate darts fan who is looking forward to taking A-Level Media Studies and pursuing a career in sports journalism. More of Jamie's excellent writings can be found at his blog: http://www.jambosdarts.blogspot.co.uk/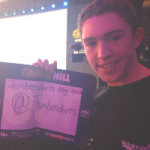 Latest posts by Jamie Barron (see all)