JB#20 Premier League – Week 12
Friday, April 25, 2014
Column JB20
Premier League – Week 12
The Top 4 starts to take shape
After an eventful few days in Manchester, the Premier League Darts brought more drama to the warehouse city. There was a scare for all male darts fans before the night began as news broke that the walk on girls were struggling to make the venue due to traffic problems but they all breathed a sigh of relief when they walked out during the opening walk ons! It was a full house in the Phones 4u Arena as many Manchester United fans looked to recover (or celebrate!) from the sacking of their Scottish manager David Moyes.
However, the opening match didn't do much to banish the memories of their previous manager as it was an all Scottish clash between Peter Wright and Robert Thornton! Both players weren't in the best of form leading up to the match and while Wright knew a win would keep him in play- off contention, Thornton knew he needed to take at least 3 points from his 2 games in Manchester to avoid being cut adrift at the bottom of the league. Thornton was off to a flying start as he hit 3 180's in the first 2 legs and a 137 checkout. Despite this, Wright was also scoring well, narrowly missing a bull finish on a 167 checkout in leg 3 before levelling the match at 2:2. Wright then moved into a 4:2 lead in an exceptional 6th leg where Thornton hit 6 consecutive T20's but still didn't get a shot at a double after a fantastic 121 finish from Wright. But Thornton wasn't willing to lie down and take defeat as he brought the game back to 4:4 culminating in a determined celebration. The next 2 legs saw 2 more breaks of throw as Wright hit the bullseye to punish Thornton's missed doubles before Thornton broke back with a D10 finish. In the first of the deciding legs, Wright hit 5 perfect darts before breaking Thornton's throw and he then won the match in the final leg on D8 after Thornton made it 13 missed darts at D20 in the match. Wright's celebration showed that he realised it was a vital victory for his play-off chances but Thornton will be wondering where it's all gone wrong as even though his scoring has been superb throughout the tournament, his realistic chances of making the top 4 are over.
Next up was the most important match of the night as Phil Taylor and Gary Anderson went into their games 4th and 5th place in the league. Both players were full of confidence going into the tie after last week's wins and Taylor's German Masters victory last weekend. Anderson showed his newly found confidence by winning the first leg in 11 darts but Taylor hit back by winning the next 3 legs to lead 3:1. Taylor was on the verge of another break of throw in the 5th leg but he missed 3 double darts as Anderson stepped in to hit D20 before Anderson earned a break of his own to level the match 3:3. Taylor then looked flummoxed in the next leg after checking out 139 before realising he only required 129 and it ultimately cost him as Anderson won the leg to go 4:3 ahead. But his lead didn't last long as Taylor hit a 121 checkout to level the game which cued animated celebrations. In the last few weeks, Taylor has looked the most animated I have ever seen him and this just shows his motivation and love for the game has not quivered. As a result, Taylor broke again in the 9th leg with D16 after Anderson missed D15 on a 150 checkout but Anderson returned the favour in the next leg by hitting D20. Similarly to the first game, the match went to the final leg after Anderson guaranteed a point to lead 6:5 but he couldn't earn a victory as Taylor won the leg to draw the match. The match still leaves the race for the top 4 wide open but Taylor will feel disappointed he couldn't have cemented his top 4 spot after averaging over 105.
The third match of the night saw the most consistent player in Raymond Van Barneveld come up against the most inconsistent player Adrian Lewis in this year's competition. Even before the match, Van Barneveld's place in the play offs looked very secure but Lewis was in need of a darting dream to also make it to the O2 Arena. The first 3 legs all went with throw before Van Barneveld hit D16 to break in the 4th leg and it was a well deserved lead as he was averaging 112 at the end of the same leg. Four consecutive holds of throw then followed to leave Van Barneveld leading 5:3 after Lewis missed a double opportunity to break Van Barneveld's throw. Van Barneveld then kept his 100% record of holding his throw in the 9th leg as he guaranteed a point to lead 6:3. Van Barneveld nearly rounded off the win in perfect style after hitting 6 perfect darts but even though he failed to earn the 9 darter, he comfortably won the leg to win the match 7:3. It is now all but over for Lewis in this year's competition after 4 straight losses but Van Barneveld has shown his brilliance again as he all but secures his play off spot. Could this be the year Van Barneveld breaks his Premier League duck?
Mighty Mike was next up on the big stage against Dave Chisnall knowing that he needed at least a point to regain his place at the top of the league. The first leg started off with a surprise as Chisnall swiftly broke Michael Van Gerwen's throw with a 100 checkout but the lead didn't last long as Van Gerwen threw an incredulous dart to hit the bull and break straight back. The pair then shared the next 2 legs on throw before Van Gerwen was broken again by Chisnall who impressively took out 80. It was then a feeling of deja vu for Van Gerwen as he broke Chisnall straight back to level the scores at 3:3. But Chisnall would not let up as he hit D20 for the third time in the match to break Van Gerwen again and his aeroplane celebration symbolised the fact he was flying in the match. Predictably, Van Gerwen broke straight back again on D5 which meant that 75% of the first 8 legs were breaks of throw! There was more drama in the next leg after Van Gerwen again let Chisnall have darts at double but when he missed them, Van Gerwen came back to hold his throw.
Van Gerwen then showed why he is world champion as he punished Chisnall's minimal miss of D16 to break his throw and confirm a point. In the final leg, Van Gerwen threw another miracle dart to hit D2, win the match and go back to the top of the league but Chisnall's realistic hopes of a play off spot in his debut season are over.
The final match of the night saw Gary Anderson retake the stage to take on his 2nd Scottish opponent of the evening in the form of Robert Thornton. Anderson took the early lead in the tie by winning the first 3 legs before Thornton got onto the scoreboard but then Thornton returned the favour by winning the next 3 legs himself! Anderson then won the next leg on D20 to maintain his 100% record on the doubles. Switch your attention back to last year when Anderson was relegated from the Premier League mainly due to his double trouble. Meanwhile Thornton was known for his prolific D20 hitting in which now he is showing inconsistencies on! Despite this, the next 3 legs then all went with throw to leave the match hanging in the balance at 5:5. But Thornton's doubling frailties came back to bite him in leg 11 when he missed double darts to earn a point but he still earned the draw in the last leg on D8. This meant that Anderson picked up 2 points from his 2 matches leaving him level on points with Phil Taylor. Thornton however will be disappointed with his tournament with only 1 win throughout which is unbelievable as he has actually scored and played well but his failure has come down to timing as he has missed crucial doubles at crucial times.
I now honestly believe that the top 3 in the Premier League are pretty secure and only Phil Taylor and Gary Anderson can realistically achieve 4th place.
The following two tabs change content below.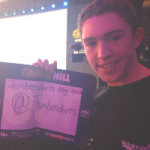 Hailing from Yorkshire, England, 16-year-old Jamie "Jambo" Barron is a passionate darts fan who is looking forward to taking A-Level Media Studies and pursuing a career in sports journalism. More of Jamie's excellent writings can be found at his blog: http://www.jambosdarts.blogspot.co.uk/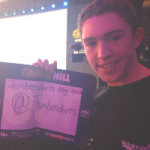 Latest posts by Jamie Barron (see all)