Column #JB17 Hello Dartoid's World!
Thursday, April 15, 2014
Column JB17
Hello Dartoid's World!

Well isn't this exciting! I never imagined just 3 months ago that when I started http://jambosdarts.blog.co.uk  that I would be offered a place at this magnificent website to write my very own column. I hope some of you have had a look at my existing blogs and if you have any comments, feel free to pass them on to me. This can be done on here, on my blog or on twitter @JambosDarts.
If you have read Dartoid's introduction on myself, you will probably know more about me than I know about myself! So I thank Dartoid for writing such a nice introduction. This is the first and last column I will write about myself before I get stuck straight in to writing about the darting world. My main writing style is reporting, most of my columns will be reports of the latest professional darting events but from time to time, I will also write about specific topics which will be a potential discussion point. As Dartoid mentioned, with 26 exams between now and the end of June, I am very busy at the moment and therefore other than my Premier League reviews, there will probably not be many other columns from me until July. (I like keeping you in suspense!)
Also, just to set a few things straight, Dartoid and I have agreed that all my columns will be my own work, Dartoid should have no influence on them other than correcting them for any grammatical mistakes. However, the only way I can post my column is through Dartoid so if you ever think 'Hey, that doesn't sound like Jambo!' please check my current blog as I will continue to use my blog and I will always post my original copy on there. In addition, I am only responsible for my own column and I have no influence or responsibility for anything else that is posted on this website. I am simply a columnist!
I am extremely grateful for this opportunity and I will be equally as grateful for anyone who continues to read my column and/or blog!
Thank you Dartoid's World!
The following two tabs change content below.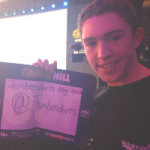 Hailing from Yorkshire, England, 16-year-old Jamie "Jambo" Barron is a passionate darts fan who is looking forward to taking A-Level Media Studies and pursuing a career in sports journalism. More of Jamie's excellent writings can be found at his blog: http://www.jambosdarts.blogspot.co.uk/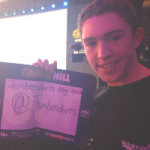 Latest posts by Jamie Barron (see all)