Column #JB16 Premier League – Week 10
Thursday, April 10, 2014
Column JB16
Premier League – Week 10

The business end of the Premier League begins
Week 10 of the Premier League saw the Steel City of Sheffield host as the business end of the competition begun. After all surviving the threat of relegation, the remaining 8 players all set their sights on challenging for the top 4. Peter Wright and Raymond Van Barneveld knew that either of them could all but guarantee their place in the play offs as both of them played twice on the night but it was Robert Thornton who nearly stole the show as he narrowly missed out on a 9 darter on D12.
It was a high quality start to the night as Raymond Van Barneveld held off Dave Chisnall to win 7:5. Chisnall amazingly hit 180's in every leg for the first 5 legs but incredibly he could only win 2 of those legs as Van Barneveld hit big checkouts of 81 and 116. Chisnall did manage to pull the game back to 3:3 with an 11 dart leg but Van Barneveld then won the next 2 legs to regain the lead. In leg 9, Chisnall hit a fantastic 164 checkout but in the next leg Van Barneveld guaranteed a point on D8. As the match went to a final leg decider, Chisnall fluffed his lines as he missed D19 for a draw and van Barneveld again used the D8 to punish Chisnall.
In a repeat of last week's match, Gary Anderson was looking to avenge his defeat to Peter Wright and he did just that as he overcame his fellow Scot by 7 legs to 4. Anderson took an early 2 leg lead in the match as Wright missed 2 doubles and he had extended his lead to 6:2 by leg 8 as he finished 80 with two D20's. Peter Wright then looked like he might stage a comeback as he got back to 6:4 with a 136 checkout. However, it wasn't to be for Wright as Anderson won the last leg on D12 to win 7:4. Anderson admitted that he hasn't thrown a dart in practice all week due to the birth of his baby last Friday but it clearly didn't affect him on the big stage. Anderson is now a serous contender for a play off place.
Robert Thornton went into his game against Premier League leader Michael Van Gerwen at the bottom of the league and he knew he would need to start picking up points quickly to challenge for a top 4 spot. Van Gerwen won his first 2 legs on throw in 11 and 12 darts and this was not the only thing Thornton had to contend with as he was also trying to battle the pain from the leg injury he picked up last week. Despite this, Thornton also held his first 2 throws and then broke Van Gerwen in leg 5 to lead 3:2. His lead didn't last long however, as Van Gerwen broke straight back and then won the next 2 legs. Leg 9 provided the highlight of the night as Robert Thornton hit 8 perfect darts before narrowly missing the D12 but he still broke Van Gerwen's throw on the D6. In the next leg, both players missed numerous darts at double before Thornton hit D2 to level the match at 5:5. However, Thornton's hard work went to waste as Van Gerwen won the last 2 legs to secure a 7:5 victory after hitting 7 perfect darts in the last leg. Nevertheless, it is going to be tough times ahead for both players as Thornton has a titanic battle on his hands to stay in the hunt for a top 4 spot and Van Gerwen faces both Phil Taylor and Adrian Lewis in Aberdeen next week.
The 4th match of the night saw Phil Taylor take on his apprentice Adrian Lewis. Since Taylor's recent weight loss it actually looked like little vs large on the stage. The first 4 legs all went with throw as both players punched the air with delight when hitting the winning doubles. However, in the 5th leg, Lewis came from nowhere with a 180 and D20 finish to break Taylor's throw and the next 3 legs were also breaks of throw to leave the match level at 4:4. Taylor then won the next 2 legs culminating in a 144 checkout which cued eccentric celebrations from Taylor as he was left dancing like a wave of the sea! Taylor was fist pumping again after the next leg as he hit D20 to win 7:4 and he is now above Lewis for the first time this year and is in the play off spots. He is again proving his doubters wrong as his poor start to the competition now feels a long time ago. Lewis will be hoping to recover next week after a little blip in which he has fallen to 6th place in the league.
The night finished off with Peter Wright and Raymond Van Barneveld taking to the stage again with Wright wearing his second different outfit of the night and he was hoping it would bring him better luck than his earlier attire did. The outfit change looked to have worked early on as Wright broke Van Barneveld's throw in the first leg but Van Barneveld returned the favour in the next leg. The next 6 legs then all went with throw despite Wright having a dart at bullseye to break in leg 9. The turning point came in leg 10 however, as Van Barneveld broke Wright by hitting 129 and leaving Wright helpless. Despite this, Wright wasn't about to give up without a fight as he broke straight back and was throwing first for the draw in the last leg. But Van Barneveld took control of the final leg as he hit D8 to win 7:5 and he made it a perfect night with 2 wins. However, It all went wrong for Wright in Sheffield and now having played 1 game more than the majority of the field, is his top 4 place going to be in threat?
The following two tabs change content below.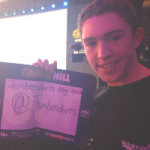 Hailing from Yorkshire, England, 16-year-old Jamie "Jambo" Barron is a passionate darts fan who is looking forward to taking A-Level Media Studies and pursuing a career in sports journalism. More of Jamie's excellent writings can be found at his blog: http://www.jambosdarts.blogspot.co.uk/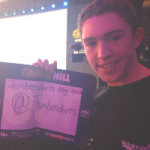 Latest posts by Jamie Barron (see all)