Column #JB15 Premier League – Week 9 – Judgement Night
Friday, April 4, 2014
Column JB15
Premier League – Week 9 – Judgement Night

Despite Thornton's fall, he avoids elimination at the expense of Whitlock and Newton
Last night, the Premier League stars headed to the Motorpoint Arena in Cardiff for the most important night of the Premier League season so far. It was the night many players had been dreading and as Simon Whitlock's elimination had already been confirmed, it left Wes Newton, Dave Chisnall and Robert Thornton in danger of getting the chop.
The opening match of the night was an all Scottish tie between Gary Anderson and Peter Wright. Following Wright's first defeat in the Premier League last week he was looking to bounce back but he wasn't helped by a minority of the crowd who booed throughout his walk on. There is no doubting that Wright certainly splits opinion and his colourful outfits continued as he wore some 'hippy' style trousers with his 9th different outfit in this year's tournament. He also carried on his tradition of changing his darts and he has now used 6 different sets of darts in his 9 matches in the Premier League. In an extremely close match, every one of the first 10 legs of the match went with throw to leave the scores level at 5:5 going into the last 2 legs. However, Wright took the 2 points by winning the last 2 legs as he snatched the points away from Anderson with a 7:5 win. Neither player played to the best of their ability but Wright will be very happy to now be only 1 point off the top of the League. It is another case of what might have been for Gary Anderson as he just can't seem to convert his positive performances into points this year.
It was a top vs bottom clash next as Simon Whitlock was playing for pride against Premier League leader Michael Van Gerwen. However, you could be forgiven for thinking that Whitlock would be the player at the top of the League as he raced into a 6:2 lead which included a 116 and a maximum 170 checkout! Despite Whitlock taking the lead, Van Gerwen was still playing well and hit a 164 checkout in the 5th leg and he showed his pure class by winning the last 4 legs to fight back and earn a draw. Unfortunately for Whitlock, this performance was too little too late as he wondered where this form had been for 8 weeks! Both players averaged over 100 and they hit 5 ton plus finishes between them! This draw still leaves Van Gerwen on top of the Premier League.
Previous World Champions Adrian Lewis and Raymond Van Barneveld went toe to toe in the 3rd match of the night but it was a scrappy opening leg in which Adrian Lewis had 7 darts at double before winning the leg on D1. Lewis then improved as he took 3 of the next 4 legs to move 4:1 ahead but Van Barneveld then produced a run of 3 successive legs to level the scores at 4:4. Similarly to the last 2 matches, the scores were level at 5:5 going into the last 2 legs and the players eventually shared the spoils with a 6:6 draw even though Lewis had 2 darts to win the match. Van Barneveld has now drawn for a record of 5 successive weeks but along with Lewis he stays in the top 4 spots.
It was a case of the winner takes it all in the most important match between close friends Dave Chisnall and Wes Newton. The first 8 weeks of the Premier League all came down to 1 match for these 2 players and the pressure was clear to see for Newton early on as he had a horrible start in which Chisnall strolled into a 2:0 lead. However, after the first 2 legs, Newton looked like a totally different player as he won the next 4 legs by hitting two separate 2 dart finishes of 87 and 90. The tide then turned again as Chisnall again broke the Newton throw leaving the scores level at 5:5 for a 4th match in a row. Thornton was now undoubtedly biting his fingernails as he knew if the match was a draw, he was required to pick up at least a point against 16 time World Champion Phil Taylor in the last game of the night. Therefore, Thornton would have been hugely relieved to see Chisnall win the last 2 legs as Newton broke under the pressure. This confirmed that Chisnall was safe and he now moves up to 6th place in the league and only 2 points off a play off place! Newton on the other hand has now been eliminated for the second successive year and in my opinion the right 2 players were eliminated as Whitlock started off too slowly and Newton could only average 88 and hit 29% of his doubles in his deciding game. Will we ever see Wes Newton in the Premier League again?
The match concluded with Phil Taylor comfortably beating Robert Thornton by 7 legs to 4. Both players played well throughout the match as Taylor averaged 102 with Thornton just below on 99. Taylor looked very determined and animated throughout the match and seemed to have a new lease of life as he went in search of another win. Thornton seemed to be playing a lot quicker throughout the match and this was shown in Leg 10 as he went for a little trip as he collided with Russ Bray on the way back from the dart board. This little trip sent Thornton flying into the drinks table and he seemed in some serious discomfort for the rest of the match. However, Thornton will be very pleased this was the only pain he had to suffer on the night as he just scraped through to the second stage of the Premier League on leg difference but he will have to seriously up his game to challenge for the play off spots. Taylor on the other hand has proved that you can quickly change around your fortunes in the Premier League as he has gone from relegation candidate to being only 1 point off a top 4 place.
The following two tabs change content below.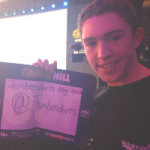 Hailing from Yorkshire, England, 16-year-old Jamie "Jambo" Barron is a passionate darts fan who is looking forward to taking A-Level Media Studies and pursuing a career in sports journalism. More of Jamie's excellent writings can be found at his blog: http://www.jambosdarts.blogspot.co.uk/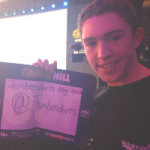 Latest posts by Jamie Barron (see all)