Column #JB14 Premier League – Week 8
Friday, March 28, 2014
Column JB14
Premier League – Week 8

The Premier League just keeps getting better!
The penultimate week before elimination saw the Premier League hit Dublin which is undoubtedly one the best venues on the Premier League circuit. The 10,000 fans packed into the O2 Arena were confirmed as the loudest crowd so far this year and their relentless singing made the hairs stand up on the back of your neck. However, despite the fans, the night will undoubtedly be remembered for the drama between Peter Wright and Michael Van Gerwen. In addition, Simon Whitlock also became the first player to be eliminated from this year's competition.
The opening match of the night saw Gary Anderson come up against Wes Newton who knew his Premier League future was reliant on his 2 matches in Dublin. Newton even put on an Irish hat during the walk on but it didn't help him earn the luck of the Irish as he lost his first match 7:3. Anderson went into the match looking to extend his fantastic Pro Tour form onto the big stage. Out of the first 7 legs, 6 legs were breaks of throw as both players missed doubles on their own throw. However at 4:3 up, Anderson took control of the match and won the last 3 legs to win the match 7:3. Clearly, Anderson was in a hurry to finish off the match as his wife was due to give birth the same night! All in all, Anderson played very well and has avoided elimination but Newton's downfall was only hitting 25% of his doubles.
Next up was an all English clash between Adrian Lewis and Dave Chisnall. Chisnall has been the maximum man in this year's tournament by hitting the most 180's but he has shown his inconsistencies on doubles leading to his relegation fight. However, in this match both players were excellent on the doubles as only 3 darts at double were missed in the whole match! The match finished as a draw as neither player could build up even a 2 leg lead throughout the match. Despite this, it was still one of the most entertaining matches of the night as ten 180's were hit as well as big checkouts including 158 and 134. It was a shame that the match had to end after 12 legs but neither player deserved to lose. Lewis still remains in the play off spots after the match but Chisnall knows his Premier League future is down to his performance in Cardiff.
In a must win match for both players, Wes Newton played his second game of the night against Simon Whitlock. Similarly to the match beforehand, neither player could force a lead in the match of more than 1 leg and the match finished as another draw. Newton had a match dart at D13 in the final leg but couldn't convert it as Whitlock punished him on D8. The draw wasn't enough for Whitlock as he became the first player to be eliminated this year and this is mainly down to his disastrous start to the tournament. Newton is still hanging in there but he is relying on his performance next week to avoid dropping into the other elimination spot for a second successive season.
The top 2 in the League went head to head in the fourth game of the night and it was definitely the most dramatic game so far this year. Peter Wright and Michael Van Gerwen have undoubtedly been the most entertaining and best players so far this year with Wright still looking to hold onto his unbeaten record in the Premier League. The first 4 legs all went with throw as Van Gerwen hit a 130 checkout and a 13 dart leg on his throw. The first bit of drama came in leg 4 as Peter Wright threw an 'exhibition style' dart as when his line was blocked, he ducked down about 1 foot before throwing the dart! Then in the next leg, Wright had a shot at 161 for a break of throw and hit the T20 and T17 to set up the bull. Wright then did his trademark turn to the crowd before missing the bull with his last dart. This clearly riled Van Gerwen as he angrily then took out 84 and then won the next 3 legs to lead 6:2. Despite a late comeback from Wright, he was unable to defend his unbeaten record as he couldn't hold his throw in the last leg as Van Gerwen hit 128 to win the match 7:5.
It was clear to see from the handshake after the match that the players do not like each other and this was confirmed by Van Gerwen's interview where he ranted about Wright and branded Wright as "out of order and respect-less". Wright then responded by saying that he "don't give a monkeys", it is "tough" if Van Gerwen doesn't like his style and he is going to "do him next time". This falling out started a huge debate in the darting world over which player was in the right. Wayne Mardle and Rod Harrington backed Wright because he is not disrupting Van Gerwen's throw with his antics and he is providing excellent entertainment which is what the Premier League is about. However, Adrian Lewis backed Mighty Mike on Twitter by saying that Wright was "disrespectful" and said that he was there just to "piss about". In my opinion, I am backing Peter Wright. I would like to make it clear that I am a huge fan of both players and this is only my opinion but I think Van Gerwen has just thrown a strop. I think Van Gerwen is just moaning because he feels threatened that Wright is starting to win a lot of matches and win over a lot of fans. I don't understand Van Gerwen's need to moan as he is top of the league, he won the match and he has no need to feel threatened. I think that Wright is just enjoying his Premier League experience and trying to entertain as much as he can and this clearly hasn't affected his darts this year. As long as Wright doesn't start his antics while his opponent is throwing I think it's acceptable. Finally, I would also like to commend Wright as I have heard that he stayed for 4 hours after the match last night taking photos and signing autographs for fans.
The final match of the night saw a friendlier clash between old friends Raymond Van Barneveld and Phil Taylor. These 2 legends first played each other 24 years ago and they clearly have great respect for each other. The match kicked off with 2 breaks of throw before Van Barneveld took out checkouts of 160 and 121 to go 4:2 ahead. However, Taylor showed he is back playing well again as he fought his way to 6:5 ahead. Taylor even won the 11th leg with a 12 dart leg even after Van Barneveld hit 6 perfect darts. Therefore, this match was also decided by a last leg decider and Van Barneveld hit D8 to finish the match 6:6 and complete a 3rd draw of the night. Taylor is now safe from elimination and Van Barneveld stays in the play off spots despite again failing to beat Taylor in the Premier League.
Next Week!
Simon Whitlock is already eliminated
Wes Newton plays Dave Chisnall – The loser is eliminated
IF the match is a draw, Wes Newton will be eliminated unless Robert Thornton loses to Phil Taylor.
Prediction: Whitlock and Newton will be eliminated.
The following two tabs change content below.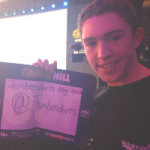 Hailing from Yorkshire, England, 16-year-old Jamie "Jambo" Barron is a passionate darts fan who is looking forward to taking A-Level Media Studies and pursuing a career in sports journalism. More of Jamie's excellent writings can be found at his blog: http://www.jambosdarts.blogspot.co.uk/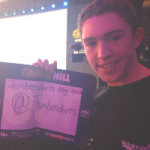 Latest posts by Jamie Barron (see all)