Column #JB12 Premier League – Week 6
Friday, March 14, 2014
Column JB12
Premier League – Week 6
Ruthless Wright remains unbeaten as the race to avoid relegation hots up
The PDC's biggest darts stars made their way to Nottingham for week 6 of the Premier League. After my disappointment at the UK Open, I was very pleased to back watching the Premier League on SkySports. As we enter the last few weeks before 2 players face elimination, it really is 'squeaky-bum' time because I believe at least 6 different players could get eliminated.
The night started with a top vs bottom tie between Peter Wright and Simon Whitlock. It was easy to see the distance between the players's in this year's league from the beginning as Wright was like a steam train as he raced into a 4:0 lead which included a 132 checkout. Although Whitlock picked up his first win last week, he couldn't carry on the revival as he only won 3 legs as Wright ran out 7:3 winner. Wright looked focused throughout and was ruthless on the finishing as he averaged over 100 and this shows that he has become one of the best players in the PDC. However for Whitlock, he looks destined for elimination unless he can completely turn around his form. He has been very unlucky this year and this was shown last night with numerous bounce outs. If he didn't have bad luck, he would have no luck at all.
The best game of the night was definitely the second game between UK Open champion Adrian Lewis and Gary Anderson. Although it wasn't the highest quality match I have ever seen, it was one of the fastest which led to a highly entertaining match which went to the very last leg. Lewis made the best start in this match as he quickly went 4:1 ahead. Then the game turned around as Lewis looked to be on the racks as Anderson won the next 4 legs to lead 5:4. But in the last 3 legs, Anderson faltered and missed a total of 6 darts at double to earn a point as Lewis won them all to win the match 7:5. Despite the result, both players should feel relatively safe from elimination and I think they will both be fighting it out to sneak into the play off spots on the 15th May.
Michael Van Gerwen beat Wes Newton 7:1 in the next game of the night but the score doesn't tell the whole story as it was easily the highest quality match of the night as Newton averaged 103 and Van Gerwen averaged 105. Newton looked far from rusty after missing last week's tournament due to illness. Van Gerwen's second whitewash of the season looked on the cards as he raced into a 5:0 lead but he had to settle for a 7:1 victory in the end. Despite Newton's impressive scoring, he looked sloppy on the doubles and he is now just 1 point above the elimination zone going into the last 3 weeks. Van Gerwen however, looks well on track to securing a play off spot again.
The 4th match of the night saw the only draw as Robert Thornton and Raymond Van Barneveld shared the spoils. Both players looked solid on their throw as the first 8 legs were all comfortable holds of throw. Thornton broke for the first time in Leg 9 with an excellent 13 dart leg before Van Barneveld broke straight back on D16. Thornton was the first player to guarantee a point as he broke Van Barneveld's throw with another 13 dart leg but again he stuttered at the finish line as he missed 2 match darts at his favourite D20. Van Barneveld then hit the D19 to make sure the match finished 6:6. This point kept Van Barneveld in 3rd position but Thornton is still only 1 point above the elimination zone and he will be looking over his shoulder as he has already played 1 match more than his opponents.
Phil Taylor picked up only his 2nd win of the tournament in the last game of the night as he battled to a 7:5 win over Dave Chisnall. In truth it was a very poor match which was summed up by the 9th leg which Taylor won comfortably even though he missed 7 darts at double. After exchanging breaks of throw, the match was level at 5:5 going into the last 2 legs but as Chisnall missed 2 double darts and a dart at bullseye to earn a point, Taylor punished him as he hit D16 to win the match. Taylor admitted after the match that he was very nervous and was relieved that he could hit the winning double. Although, despite Taylor's poor run of form, he is still very capable of avoiding relegation and could this be at Chisnall's expense?
The following two tabs change content below.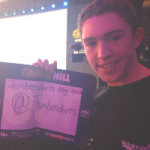 Hailing from Yorkshire, England, 16-year-old Jamie "Jambo" Barron is a passionate darts fan who is looking forward to taking A-Level Media Studies and pursuing a career in sports journalism. More of Jamie's excellent writings can be found at his blog: http://www.jambosdarts.blogspot.co.uk/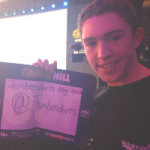 Latest posts by Jamie Barron (see all)