Column #JB10 Premier League – Week 5
Friday, March 7, 2014
Column JB10
Premier League – Week 5

Excellent Entertainment in Exeter
What a Night! The Premier League just keeps getting better and better! On a night of drama that started even before the darts, 60 legs were played on the night which is the maximum amount possible and this was the first time this has happened in the entire history of the Premier League. It was announced during the day that Wes Newton would miss out on Week 5 due to tonsillitis and I hope he can fight back to full fitness to be firing freely again next week. This led to Robert Thornton having to play 2 games in one night. By the end of the Week 5, the tournament is still wide open and this year's tournament truly must be the best and closest league ever with only 6 points separating the top and bottom of the league and only 3 points separating bottom of the league and the play offs.
The night kicked off with an all Scottish clash between top of the table Peter Wright and Robert Thornton. Thornton knew it was a big night for him as he had to play twice and he started well with two 180's in the first leg and this led to him breaking Wright's throw straight away. The next 4 legs saw 4 holds of throw including Wright taking out an excellent 116 checkout. In the 6th leg, Thornton then missed 3 darts at double to let Wright in to break back and level the match. Wright broke again in leg 10 with a 96 checkout and guaranteed he kept his unbeaten record. However, Wright couldn't see off Thornton as he won the last 2 legs and won the last leg with an 11 darter after hitting 6 perfect darts. The match finished 6:6 which was probably a fair result.
Week 5 continued with another 6:6 draw between Raymond Van Barneveld and Dave Chisnall. Chisnall had hit the most 180's in this year's tournament at the start of the night despite only being one place above the elimination zone and he was determined to turn his high scoring into more points. The match started with 6 comfortable holds of throw which was then followed by 4 breaks of throw. Van Barneveld then guaranteed a point by hitting the bull but he couldn't turn the draw into a win as he missed D20 for the match to let Chisnall steal a point.
Michael Van Gerwen and Adrian Lewis then played out an eagerly anticipated match where both players failed to hit the 'jackpot' as they made it a hat-trick of draws. It was a slow start for both players as Lewis needed 8 darts to hit his first big treble and both players missed doubles at the end of the leg before Van Gerwen broke Lewis' throw with a D4. Van Gerwen then hit an excellent 111 finish to take an early 2 leg lead. This lead didn't last long however as Lewis won the next 3 legs and he showed the world how much it meant to him with his extravagant celebrations. But Lewis' inconsistent form was then shown again as he followed up winning 3 legs by losing the next 4 as Van Gerwen went 6:3 ahead to guarantee a point. The Exeter crowd thought a 9 darter might be on the cards when Van Gerwen hit 6 perfect darts in Leg 8 but it wasn't to be. After Van Gerwen guaranteed a point, the match turned around again as Lewis won 3 consecutive legs to also earn a point. This result meant that Van Gerwen stayed in the play off positions and Lewis avoided a 3rd straight defeat.
Gary Anderson found the first win of the night in match 4 as Taylor lost again. After last week's win, I expected Taylor to mount a challenge up the Premier League table but he again missed crucial doubles and hit too many 5's as he lost his 4th match in 5. Many critics are now naming Taylor the 'Manchester United' of darts and it remains to be seen whether he can recover and find his old form. The tone of the match was set from the 1st leg as despite Taylor hitting a 180, he missed 2 darts at D8 as Anderson punished him on D11 to break his throw. In the early stages neither player could build a lead as the first 4 legs were all breaks of throw. Anderson drew first blood in the match in the 8th leg as he held throw to go 5:3 ahead and he then hit a 114 checkout in leg 10 to hold his 2 leg lead. This meant that Anderson guaranteed a point but Taylor wasn't willing to hand him the 2 as he pushed him to a final leg. It looked as though Taylor would get out of trouble as he hit a perfectly timed 180 in the last leg but as he missed 2 darts at D14, Anderson punished him with a D10 finish to win the match 7:5.
The final game of the night saw Robert Thornton return to the stage against Simon Whitlock who was in need of his first points of the tournament. This match was probably the highest quality match of the night as Thornton hit the first 100+ average of the night but Whitlock had a 100% record on the doubles. When the scores were tied on 2:2, Whitlock then produced a sublime 150 finish to hold his throw and then both players kicked off leg 6 with 180's. At the end of leg 10, both players were again tied at 5:5 but as Thornton missed 2 darts to guarantee a point, Whitlock took the last 2 legs to win the match 7:5 and earn his first points of the tournament. Whitlock still remains in the elimination zone but now he is only 2 points off safety and can he achieve the great escape? In contrast, Thornton will feel very unlucky to only pick up 1 point from his 2 games and looking at his remaining fixtures he will no doubt be feeling the heat as he has already played 1 more match than his competitors and is only 2 points above elimination.
Week 6 Predictions
Simon Whitlock 4 : 7 Peter Wright
Adrian Lewis 5 : 7 Gary Anderson
Michael Van Gerwen 7 : 1 Wes Newton
Raymond Van Barneveld 5 : 7 Robert Thornton
Phil Taylor 7 : 5 Dave Chisnall
The following two tabs change content below.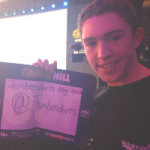 Hailing from Yorkshire, England, 16-year-old Jamie "Jambo" Barron is a passionate darts fan who is looking forward to taking A-Level Media Studies and pursuing a career in sports journalism. More of Jamie's excellent writings can be found at his blog: http://www.jambosdarts.blogspot.co.uk/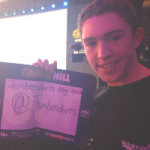 Latest posts by Jamie Barron (see all)