Column #JB4 Premier League – Week 1
Friday, February 7, 2014
Column JB4
Premier League – Week 1
Taylor thrashed on an unbelievable opening night
As Liverpool kicked off this year's Betway Premier League, in the words of Wes Newton's walk on song, it was a "crazy, crazy, crazy, crazy night!". It was the night that all darts fans had been waiting for and it certainly did not disappoint with plenty of dazzling darts, drama and dancing!
The night kicked off with Premier League debutant Dave Chisnall winning 7:5 against the below par Robert Thornton. The match swung both ways before ending up in the hands of Chisnall as he punished Thornton for his 'double trouble'. After that game, we were all left wondering if Thornton would have to walk 500 miles back home if he doesn't survive relegation at the end of week 9. Current BDO world champion Steven Bunting watched on with admiration as he looks to start his PDC career and who knows if this time next year he could be playing in the Premier League.
The second game of the night saw Thornton's fellow scot Peter Wright have no such 'double trouble' as he beat Wes Newton 7:3. Throughout Wright's performance we saw his charisma and skill shine through and he is certainly a fantastic addition to the Premier League. Could he be a dark horse for this year's title? However, Wes Newton wasn't at his best, he is known as the warrior and he is certainly going to have to fight for his place to avoid relegation again this year.
In the third game of the night, Gary Anderson was looking to build on his German Darts Championship title from last weekend and despite averaging 100.7, he was quickly beaten by a brilliant Raymond Van Barneveld. Barneveld was truly unstoppable and after the first 3 legs he was averaging an unbelievable 128. He then went on to hit 7 perfect darts in leg 6 before wrapping up the win 7:2.
Game 4. Michael Van Gerwen 7 : 0 Phil Taylor. Yes, you read that correctly. 16 time world champion, Phil Taylor, suffered only the 4th ever Premier League whitewash at the hands of current Premier League champion Michael Van Gerwen. This huge defeat would be easy to blame on Taylor's new darts or his incredible weight loss but in all honesty, he was truly outclassed by Van Gerwen. Van Gerwen averaged 109.6 and hit all of his first 5 attempts at the double and he showed he is clearly the favourite to retain his Premier League crown this year. As we have seen over the years, you should never write Taylor off, but could this now be the end of Taylor's dominance?
The night concluded with Adrian Lewis winning 7:1 over Simon Whitlock. This game saw the number 3 and number 4 in the world rankings go head to head but in truth it was never a close contest. Lewis averaged just under 100 whereas an under the weather Whitlock could only manage an average of 86. Whitlock was nearly relegated from the Premier League last year and he will need to vastly improve his performance to avoid another fight this year. In contrast, Lewis will now be looking up and challenging to make the top 4.
Week 2 Predictions
Wes Newton 1 : 7 Raymond Van Barneveld
Dave Chisnall 3 : 7 Peter Wright
Gary Anderson 7 : 5 Simon Whitlock
Adrian Lewis 6 : 6 Phil Taylor
Robert Thornton 2 : 7 Michael Van Gerwen
The following two tabs change content below.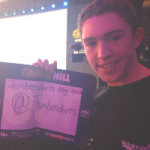 Hailing from Yorkshire, England, 16-year-old Jamie "Jambo" Barron is a passionate darts fan who is looking forward to taking A-Level Media Studies and pursuing a career in sports journalism. More of Jamie's excellent writings can be found at his blog: http://www.jambosdarts.blogspot.co.uk/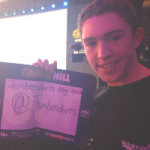 Latest posts by Jamie Barron (see all)