Column JB8 Premier League – Week 3
Friday, February 21, 2014
Column JB8
Premier League – Week 3

Brilliance in Belfast
5 Ton plus averages, 2 major shocks and the loudest crowd so far meant that Belfast provided the best night so far in the Betway Premier League. 3 weeks into the Premier League, the table is starting to take shape but who could have predicted it would look like this?
The first game of the night was an all Scottish clash between Robert Thornton and Gary Anderson and Thornton provided one of his best ever performances on the Premier League stage. The match took little over 15 minutes to complete as Thornton wrapped up a 7:2 win with an incredible 105 average, the highest average of the night. Last week, I questioned whether Thornton would be fighting relegation but if he carries on hitting 105 averages, he will no doubt be a contender for the crown. Anderson will not worry too much about this loss as he ran into a player in top form and he still achieved a 95 average. I believe that both players will comfortably avoid relegation at the end of Week 9.
The next game of the night was another speedy game where both players hit ton plus averages. In a very close game, Michael Van Gerwen kept his 100% record in the year's Premier League by defeating Dave Chisnall 7:4. Van Gerwen really looks unstoppable this year and despite suffering a little bit of double trouble, he still won against an in form opponent. Despite the defeat, Chisnall has shown in these first 3 weeks that he is a great addition to the League and he is not just there to make up the numbers.
The third game of the night again provided the biggest shock of the night. It was something I never thought I would see. Phil Taylor, 16 time World Champion, lost a darts match to a man dressed as a cow! Although on a serious note, it is a very worrying time for all Taylor fans. Taylor again had a good ton plus average but he looked like a beaten man as soon as he stepped out on stage and the doubles are still troubling him. In order to just avoid relegation, Taylor is going to have to win at least 4 of the next 6 games in my opinion. He literally and metaphorically looks a shadow of his former self and I fear that the legend of our game, could be on the verge of bowing out. Peter Wright on the other hand put in another impressive performance as he averaged over 100 in a 7:4 win. Similarly to Chisnall, Wright has adapted to the League well and he is lying second in the League. Could he follow Van Gerwen and become champion on his debut year?
Wes Newton continued to prove his critics wrong in the fourth game of the night as he beat an under par Adrian Lewis by 7 legs to 2. The game was not a classic but Newton looked in control throughout and he has already shown that he has really learnt from his Premier League experience of last year. It was a very poor performance from Lewis, who was suffering from a bad cold, and it meant he lost his 100% record in this years Premier League. However, both players will be happy with their starts to the Premier League as Lewis sits in the top 4 spots and Newton is just one place behind him on leg difference.
In the final game of the night, Raymond Van Barneveld recovered from last week's loss to get back on track by beating Simon Whitlock 7:4. Barneveld again looked ice cool on the big stage and recovered from a mid match meltdown to claim the 2 points. If he can start performing consistently in this years Premier League, can Barneveld break his Premier League duck? It is not looking as pretty for Whitlock however as he is propping up the Premier League table without a point to his name. He did improve his performance from the first 2 weeks but it still wasn't enough and I really can't see the World Number 3 avoiding relegation.
Week 4 Predictions
Peter Wright 7 : 4 Adrian Lewis
Robert Thornton 7 : 4 Wes Newton
Simon Whitlock 2 : 7 Phil Taylor
Michael Van Gerwen 7 : 3 Raymond Van Barneveld
Dave Chisnall 6 : 6 Gary Anderson
The following two tabs change content below.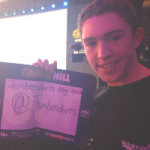 Hailing from Yorkshire, England, 16-year-old Jamie "Jambo" Barron is a passionate darts fan who is looking forward to taking A-Level Media Studies and pursuing a career in sports journalism. More of Jamie's excellent writings can be found at his blog: http://www.jambosdarts.blogspot.co.uk/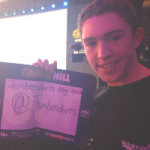 Latest posts by Jamie Barron (see all)