Column #JB7 Premier League – Week 2
Friday, February 14, 2014
Column JB7
Premier League – Week 2
Taylor toppled again on a disappointing night at the darts
As Bournemouth hosted week 2 of the Premier League, despite the disappointing darts, it was still a very entertaining night as there were many shocks and comebacks which showed that darts is one of the most unpredictable sports in the world.
Wes Newton set the tone for the night as he kicked off the night with a surprise win over Raymond Van Barneveld. This turned around both of their results from last week and Barney's 109 average looked a distant memory. The match was summed up by the first leg which took 23 darts and Newton missed 4 darts at the double before hitting double 10. Despite the Barney Army being in full flow, the same couldn't be said for Barneveld's darts and Newton always looked capable of hitting a big finish as he missed the bull for a 167 checkout on two separate occasions. Therefore, even though he found himself 5:3 down after 8 legs, he fought his way to win the match against an out of sorts Barneveld as he won the next 4 legs to win 7:5.
Game 2 of the night featured the 2 newcomers to this year's Premier League and it certainly wasn't a classic. Peter Wright entered the arena in his usual colourful attire as he chose a light blue outfit but his attitude contrasted his colour as he looked far from calm on the big stage. There was double trouble for both players throughout the match and in the first leg, Dave Chisnall missed 7 double darts before Wright took out double 1. For the majority of the match, both players seemed to be doing their best to throw away the game but at 5:1 up, Wright looked like he would take the match. However, in fairness to Chisnall, he upped his game and hit 6 perfect darts in leg 9 before securing a point as the game ended 6:6.
The next game of the night started off better as Gary Anderson hit a 180 with his first 3 darts. Anderson carried on playing well throughout the match and carried out a resounding 7:2 win over Simon Whitlock. As Anderson hit 70% of his doubles, his trouble on the doubles looks to be over and with this form, could he be a dark horse for this years Premier League? In contrast, the man from down under still seemed under the weather and looked nervous throughout. He is going to have to quickly improve his performance if he wants anyone else to finish under him by week 9.
The biggest game of the night was a repeat of the recent UK Open Qualifier 3 Final but the score was reversed as Phil Taylor was toppled again as Adrian Lewis won the match 7:3. The Power was unable to replicate the form from the weekend, which saw him hit two 9 darters, as he quickly went 5:0 down in the match and the whole darting world was wondering if he could be whitewashed for the second week running. However, he managed to salvage 3 legs in the match including winning a leg with a 140 finish but it wasn't enough to earn any points as an impressive performance from Lewis saw him comfortable winner. It is all looking promising for Lewis as he goes top of the League but Taylor is left in the bottom 2 and without a point. Is it possible that the great Phil Taylor could be relegated?
Finally, it was a quality start between Robert Thornton and Michael Van Gerwen as both players were averaging over 100 after 2 legs. Thornton made Van Gerwen work hard for his 7:5 victory and he showed an improved performance from last week's loss. Despite this, Van Gerwen still took the 2 points as he rounded off the night with a double 16 finish and a well earned victory. Van Gerwen already looks a cert to make the top 4 but is Thornton going to be challenging for the top spots or fighting relegation?
Week 3 Predictions
Robert Thornton 5 : 7 Gary Anderson
Dave Chisnall 2 : 7 Michael van Gerwen
Peter Wright 3 : 7 Phil Taylor
Wes Newton 2 : 7 Adrian Lewis
Raymond Van Barneveld 7 : 5 Simon Whitlock
The following two tabs change content below.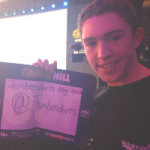 Hailing from Yorkshire, England, 16-year-old Jamie "Jambo" Barron is a passionate darts fan who is looking forward to taking A-Level Media Studies and pursuing a career in sports journalism. More of Jamie's excellent writings can be found at his blog: http://www.jambosdarts.blogspot.co.uk/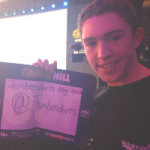 Latest posts by Jamie Barron (see all)