Column #JB5 It's Hammer Time
Saturday, February 8, 2014
Column JB5
It's Hammer Time
Hamilton makes a mockery of his Premier League omission by winning the UK Open Qualifier 1
The Hammer won his first title on the PDC Pro Tour since 2007 as he produced a fantastic 105.27 average to beat his Stoke compatriot Adrian Lewis in the final. Hamilton turned round his recent run of poor form and beat 3 Premier League players on his way to picking up the title. He began his title bid by getting a bye through round 1 but then beat Michael Burgoine in round 2 (6:3) before edging out Jeff Batham (6:5) in round 3. In round 4, Hamilton won 6:2 against, World Number 6, James Wade and then he astonishingly beat World Number 1 and current World Champion Michael Van Gerwen (6:4). As Hamilton reached the quarter finals he took his performance to another level as he knocked out Kevin Painter (6:4) before thrashing the Premier League's Dave Chisnall (6:1) in the semi final.
In the final, The Hammer came up against his close friend Adrian Lewis who was full of confidence from his 7:1 Premier League win over Simon Whitlock the night before. However, Hamilton was full of confidence himself and produced another fantastic performance. The final finished with Hamilton winning 6:2 with an average of 105.27 and hitting a 'Hamilton-like' 144 checkout.
Personally, I am delighted that Hamilton is back to his best and he thoroughly deserved to win this title. Also in this tournament, there were 3 9 darters hit by Dave Chisnall, Terry Jenkins and Dave Ladley which shows the incredible depth of quality in the professional game today. Finally, in my opinion, I think that the main message to come out of this tournament is that Andy Hamilton should have been chosen for the Premier League as he is made for the big stage and with averages of 105, he could easily have challenged towards the top of the league.
The following two tabs change content below.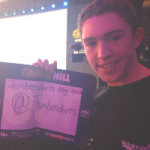 Hailing from Yorkshire, England, 16-year-old Jamie "Jambo" Barron is a passionate darts fan who is looking forward to taking A-Level Media Studies and pursuing a career in sports journalism. More of Jamie's excellent writings can be found at his blog: http://www.jambosdarts.blogspot.co.uk/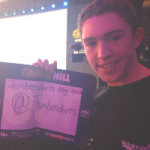 Latest posts by Jamie Barron (see all)