Column #JB3 Jamie Caven
Monday, February 3, 2014
Column JB3
Jamie Caven
The Way Eye See The Game

An inspirational, emotional and incredible book.

In the last 7 days, I started and finished reading "The Way Eye See The Game" – Jamie Caven's autobiography. This book is a must read for not just anybody who follows the game of darts but for anybody needing inspiration in order to overcome a setback in their life. After reading this book, I truly understand the hard work and determination that is needed in order to become a professional darts player but replicating it, like Caven has done throughout his career, is a different matter. "The Way Eye See The Game" follows Caven's life to date and shows how he has worked his way to becoming one of the World's best darts players despite his blindness in one eye. In addition to this, he also has type 1 diabetes due to having his pancreas removed in 1996 and he lost both his parents by the age of 36. However, not one to feel sorry for himself, Caven overcame the setbacks in his life and carried on working hard through it all and is still competing at the highest level today.

Now, that is just a brief overview of this fantastic autobiography as I want you to read this book for yourselves as not only is it an inspirational story but it is expertly written with the help of David Kirby from DK Darts. Moreover, it is a very easy read as it has short and clear paragraphs, images to break up the text and it is only 140 pages long.
Caven says on page 103 that he "decided to write this book, knowing that I can make a difference and inspire others to achieve" and he has certainly achieved that on my part and I am sure he has done the same for everyone else who has read this book.

In conclusion, I would like to highly recommend "The Way Eye See The Game" to any darts fans; I would like to congratulate David Kirby for producing such a fascinating autobiography and I would like to thank Jamie Caven for writing this autobiography and as a result, becoming an inspiration for many people throughout the world.
Since reading this book I would definitely now add Jamie Caven to my list of favourite players and it will be an amazing day when he wins his first major title.
Good Luck Jamie Caven!
The following two tabs change content below.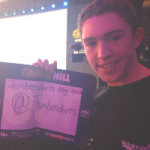 Hailing from Yorkshire, England, 16-year-old Jamie "Jambo" Barron is a passionate darts fan who is looking forward to taking A-Level Media Studies and pursuing a career in sports journalism. More of Jamie's excellent writings can be found at his blog: http://www.jambosdarts.blogspot.co.uk/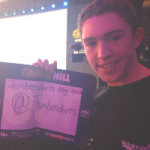 Latest posts by Jamie Barron (see all)