Column #JB2 PDC Awards
Tuesday, January 21, 2014
Column JB2
PDC Awards
Taylor in Turmoil?
Over the last 12 months we have crowned a new World Champion, seen lots of crazy outfits and possibly witnessed one of the best darts matches ever play but last night, the darting world joined together to decide on the PDC Player of the Year. The night culminated in Michael Van Gerwen being awarded PDC Player of the Year for the first, but probably not last, time in his short but prestigious career. This award was clearly well deserved as Van Gerwen has won 2 major tournaments in the last 12 months; the World Championships and the Premier League. It is also no surprise that he won the Fans' Player of the Year award as his ever increasing fan base is clear to see at every tournament with the amount of green shirts and bald heads in the crowd!

It was also a successful night for Peter Wright as he picked up the Most Improved Player and PDPA Player of the Year awards. I was very pleased for Wright's incredible darts to be recognised this year as well as his funky hairstyles and "unique" outfits and the most improved player award was thoroughly deserved as at the start of 2013 he was not in the World's Top 20 and now he is ranked World No 7 and has a place in the upcoming Premier League.
The awards also gave recognition to all 24 players who have hit nine dart finishes in the last 12 months and this shows how unbelievable the quality of the darts is today. However, my personal favourite 9 dart finish has to be Kyle Anderson at the recent World Championships and his celebration is one I will never forget.

Finally, although I think that all the winners were very deserving, I do have to feel a little bit disappointed for Phil Taylor. I feel that Taylor's history has gone against him in this case. In the last 12 months, despite having a very disappointing World Championships, Taylor was unbeaten after losing to Ronny Huybrechts in the European Championships in July until the Players Championship final in December. Taylor also won the World Cup of Darts with Adrian Lewis as well as winning the UK Open, World Matchplay, World Grand Prix and the Grand Slam of Darts. Do you believe that if any other player had won 4 major tournaments in one year, then they would't have even won 1 award? Similarly to my last post, I believe that too much is based on the recent World Championships and the whole year isn't taken into consideration when making key decisions.

So after a great year of darts, we have a new PDC Player of the Year and we can look forward to another hugely exciting and competitive 2014. I predict that next year, Michael Van Gerwen will again win the award as I believe he will continue his fine form and win at least another 3 major tournaments. I only have one more question to ask about last nights awards and that is…Does anyone know where Peter Wright bought his suit?
Full List of Award Winners
Hall of Fame Induction: John Gwynne
ProTour Player of the Year: Michael van Gerwen
Televised Performance of the Year: Simon Whitlock
Most Improved Player: Peter Wright
Fans' Player of the Year: Michael van Gerwen
PDPA Player of the Year: Peter Wright
PDC Young Player of the Year: Michael Smith
PDC Player of the Year: Michael van Gerwen
The following two tabs change content below.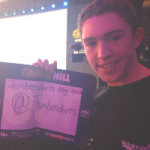 Hailing from Yorkshire, England, 16-year-old Jamie "Jambo" Barron is a passionate darts fan who is looking forward to taking A-Level Media Studies and pursuing a career in sports journalism. More of Jamie's excellent writings can be found at his blog: http://www.jambosdarts.blogspot.co.uk/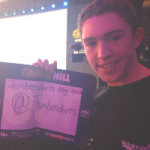 Latest posts by Jamie Barron (see all)