Column #JB1 Premier League Line Up 2014
Friday, January 17, 2014
Column JB1
Premier League Line Up 2014
Entertainment vs Ability
After the fantastic World Championship final on New Year's day, the Premier League line up was announced. This line up left lots of darts fans scratching their heads as to why these 10 players were chosen and it seemed to me that this line up had been picked for entertainment rather than ability. This led me to wondering if the Premier League has now become an exhibition tournament rather than a serious darts competition.
If you weren't already aware, the players picked for the Premier League 2014 are :
Michael Van Gerwen – World No 1
Phil Taylor – World No 2
Simon Whitlock – World No 3
Adrian Lewis – World No 4
Dave Chisnall – World No 5
Peter Wright – World No 7
Wes Newton – World No 8
Robert Thornton – World No 9
Raymond Van Barneveld – World No 10
Gary Anderson – World No 18
My first problem with this line up is that it clearly shows that it has been selected for entertainment purposes instead of quality as even though I am a Gary Anderson fan, how can it be justified for him to be selected for the competition when there are 8 players with a higher world ranking than him? Now I may be biased, as I am a massive Andy Hamilton fan, but even if some of this line up has been chosen based on entertainment, I still don't understand the choices. I do understand how some players are more exciting to watch and provide more entertainment as no offence to Justin Pipe but I would prefer to watch Michael van Gerwen average 90 rather than watch Justin Pipe average 110! I also understand that Gary Anderson is a hugely popular player but I think it was harsh to leave out Andy Hamilton and even though I am not his biggest fan, I think James Wade has reason to feel disgruntled. In addition, Andy Hamilton in particular is a very popular player and he is born for the big stage and the Premier League, especially with his trademark roar! As well as their darts ability, in my opinion, these players have 2 of the best walk-on songs in darts and I am sure the crowd will miss singing along to Dizzee Rascal and MC Hammer!

On a more serious note, I just feel that the Premier League will miss the traditional players like Wade and Hamilton this year, as they are both players who have traditionally done well in the League and Hamilton's fighting spirit will be sorely missed.
Moreover, another factor I don't understand about the selection of players is whether the whole year is taken into consideration when choosing players or just the last few tournaments? I personally think that over the last few years, many players have been chosen for the Premier League just because of the recent World Championships. If, for example, John Part had just had a great World Championship and made it to the final or even won, would this mean he got selected for the Premier League despite the fact he has under achieved in all other tournaments this year? I think that the recent World Championship should be a major factor for selecting the Premier League line up but I don't think a player should be picked solely for having a good World Championship as then surely everyone who has reached a final of a major tournament that year should be selected?
As you can tell from this post, I was very disappointed with the selection for the Premier League 2014 but I understand that as darts is one of the fastest growing spectator sports in the world, players have to be picked based on entertainment as well as ability to make sure that the sport keeps drawing in the massive crowds. Despite this, I am hugely looking forward to the 6th of February to kick off another great tournament and I simply can't see past Michael Van Gerwen to retain his title he won last year. The Premier League truly proves how popular and exciting that PDC darts is today and knowing the Premier League darts is on every Thursday night from February to May is an exciting prospect.
I hope you all enjoy the tournament and please comment your opinions on the Premier League and this blog below and share with anyone who may be interested. I want to leave you with just one question:
For a darts player trying to improve their game, as well as trying to improve their averages and doubling, should it be just as important to learn to be an entertaining player and throw in a quick manner?
The following two tabs change content below.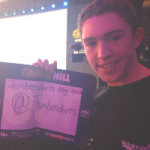 Hailing from Yorkshire, England, 16-year-old Jamie "Jambo" Barron is a passionate darts fan who is looking forward to taking A-Level Media Studies and pursuing a career in sports journalism. More of Jamie's excellent writings can be found at his blog: http://www.jambosdarts.blogspot.co.uk/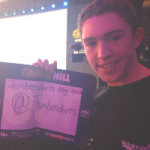 Latest posts by Jamie Barron (see all)