The 'Toid Podcast!
This week we interviewed a man who has proven many times over that this world is limitless to anyone who has the will and the desire to explore. He shows bravery in parts of the world less traveled and compassion to those in need. His passion for the sport of darts has given dart players the opportunity to follow such an extraordinary person who would normally fall under the radar. His outlandish stories, as depicted by Dartoid, often challenge the game as well as offer up humor to situations of unfavorable debate. He feeds two passions of mine, travel and darts. I tend to hunger more for the dramatics and with many of his columns, I couldn't ask for anything more. Now don't get me wrong, Dartoid does also have a more serious side when it counts. I encourage any of you with a strong sense of admiration for this game to go to www.dartoidsworld.com and read as many columns as you can stomach. You will certainly grasp what it is to be Dartoid and what this character means to Paul Seigel. Thank you for listening! Enjoy!
Tune in and listen to Dartoid's interview on the Darts Around The World Podcast!
The following two tabs change content below.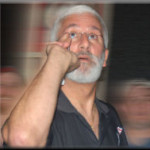 Author of the column that since 1995 has been featured by Bull's Eye News, the American Darts Organization's (ADO) Double Eagle and numerous other darts publications and websites around the globe.