A Conversation with Marylou Seigel, the Woman Behind Avid Darter and Dart Writer Dartoid
Interview of Mrs. Dartoid by Sherilyn Herkey at The Passionate Darter:
It doesn't matter what the darter's native language is, all darters understand the lingo of darts, the meaning of a handshake and appreciate a good game. It's not only the sport that Paul is passionate about, but the people involved in playing and running the sport that fascinate Dartoid as well. While he spends so much time on the road playing darts and talking darts with the regular darters like myself, I have been curious to know what his wife thinks about his adventures. Love him or hate him, he's definitely got something to say about the dart world and his heart is in the right place. Here is an interview with Marylou Seigel, wife of Paul, AKA Dartoid:
The following two tabs change content below.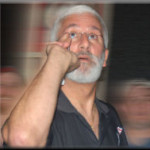 Author of the column that since 1995 has been featured by Bull's Eye News, the American Darts Organization's (ADO) Double Eagle and numerous other darts publications and websites around the globe.