Who the Heck is Dartoid?
Interviewed by Sherilyn Herkey at The Passionate Darter:
Dartoid, AKA Paul Seigel, recently indulged me in answering some questions. Here they are!
What do you do for a living that allows you to travel the world in search of darts, the darters and the ultimate game? And do you need an assistant to carry your darts? (Hint, me, me, me!)
The following two tabs change content below.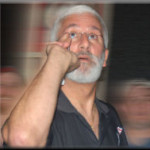 Author of the column that since 1995 has been featured by Bull's Eye News, the American Darts Organization's (ADO) Double Eagle and numerous other darts publications and websites around the globe.