Tag Archives:
Darts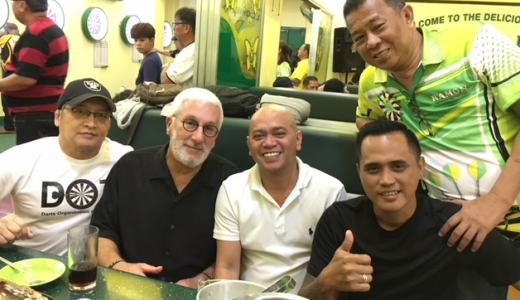 Tuesday, March 20, 2018
Column 555
The First Philippine Open Darts Tournament, Tacloban City
Until October 2015 when Hurricane Patricia slammed Mexico, the strongest such storm ever recorded in the world was super typhoon Haiyan, locally known in the Philippines as Yolanda. With sustained winds of nearly 195 miles per hour (and gusts up to 235 miles per hour) the monster storm made landfall in Eastern Visayas on November 8, 2013. For reference, Hurricane Katrina hit maximum sustained winds of 173 miles per hour. Harvey reached winds of about 130 miles per hour.
Tacloban City (the capital of the Philippines for four months in 1944 and today regional center of Eastern Visayas) was demolished. At least 6,300 lives were lost (some accounts suggest the number is closer to 10,000) and 4 million people were displaced. Remarkably, this was the third such disaster to strike the area. Similar storms lashed Eastern Visayas in 1897 and 1912.
In the immediate aftermath, "…after taking a helicopter flight over the city, US Marine Brigadier General Paul Kennedy was quoted as saying, 'I don't believe there is a single structure that is not destroyed or severely damaged in some way – every single building, every single house.'"
But Filipino resilience prevailed and the area recovered. In 2015, Pope Francis visited Tacloban and held a mass at Barangay San Jose and then another at the airport which 30,000 people attended.
What is not widely known is that in the early 1980s the Darts Organization of Tacloban (DOT) was a hotbed of darts activity in the Philippines. The first ever Tacloban-based tournament was held in conjunction with their fiesta activities. Singles was won by Peter Kairuz and doubles by Benjie Araos and Steve Dorotheo. Yes, that Steve Dorotheo!
Early patrons included Rudy (deceased) and Gina Ruiz together with DOT officials (then President Benjie Araos, Nick Gagampan, Ding Urbano and others). But there was also the Noel clan and the most enthusiastic of them all was the then 14-year-old Bem Noel – who now at 50 is a congressman representing the An Waray Party.
Thanks to the efforts of many, but founded on the generosity Congressman Noel, on April 19-22 darts will return to this one time center of strength. The Congressman and the festive and prideful people of Tacloban and the rest of Eastern Visayas will host the First Philippine Open Darts Tournament. This tournament is being organized by the Darts Organization of Tacloban under the auspices of the National Darts Federation of the Philippines. Significant credit is due Vic Erwin Buling, Manny Go, Amado Rex Bautista, Cesar Lee, Erwin Amago and Butch Solidor.
Tremendous credit (not that he seeks it) must go to Congressman Noel – and frankly, Senator Manny Pacquiao. Pacquiao has set the standard for generous local support of darts worldwide. This time it is Congressman Noel who has made the $100,000 payout possible.
Through high school Congressman Bem Noel (who, again, seeks no credit – he told me he just "loves darts") attended the Divine Word University of Tacloban. He started playing darts while still in high school in the early 1980s. He is one of the founding members of the tournament host organization, DOT. At just 14 years of age he became the youngest member of the Darts Organization of Quezon City (DOQC) headed then by national artist Ben Maramag and Steve Dorotheo (DOQC metamorphosed into the Darts Council of the Philippines).
Elected to Congress in 2004, Noel spent some time away from the sport he loves until returning to host the 2017 PDC Philippine qualifiers and then opening the HQ Food Park Tacloban – which is now the official home of DOT.
A couple of months ago, I had the privilege of spending some time with the congressman and others (long time good friends Steve and Dada Dorotheo and Mon Sabalboro, and Lourence Ilagan) at Amber's Best in Makati. Also present were Filipino legends Flor Aldon, Renato Mauricio, Baby Villanueva, Joel Songsong, Joey Bacani and the owner of Amber (the best darts bar in the entire 7,000-plus island archipelago) – Frida Morelos!
I could only stay a short time (time enough for a tasty serving of one of Amber's specialties – milk fish). Excitement was palpable in advance of the upcoming tournament.
News that America's David Fatum and Alex Reyes are likely to attend, and also Paul and Harith Lim inspired talk of the prominence the tournament was taking on. It was noted that many others, including Yong Thanawat from Thailand were actively spreading the word. Hopes are high for outstanding attendance and the opportunity not just for a great tournament but to show off the wonderful city of Tacloban.
There was also a great deal of discussion (and speculation) as to who to watch out for, who could take the title…
Among the men the likely names include Monster's Lourence Ilagan, One80's Gilbert Ulang and Alexis Toylo, Robson's Ian Perez and Noel Malicdem, Dynasty's Prussian Arceno and Accurate Dart's Alex Tagarao. Specifically from the host city there's Jun Buling, Rex Bautista, Wilmer Ong, Melvin Kent Pelona.
For some reason my name wasn't mentioned.
Among the ladies One80's Angelyn Detablan and Bebang Orbeta are certain to set the standard.
The First Philippine Open Darts Tournament is a can't miss stop to experience darts at the highest level (if you doubt this you simply don't have an understanding of the level and depth of Filipino talent) and to enjoy the tremendous hospitality of Tacloban City and the Filipino darts community. This landmark tournament dovetails neatly with the PDC Asian Tour and could serve as gateway to the biggest ever dart tournament – the PDC World Championships in December 2018.
Congratulations Philippines!
From the Field,
Dartoid